The long wait is over for the iPhone version of Microsoft's Office software available via a app  to use Microsoft word , Microsoft excel  and PowerPoint on apple devices like iphone.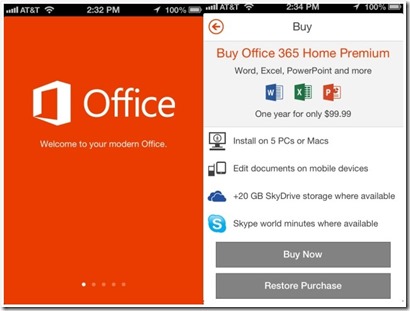 With the free app, users can quickly and easily edit, save and share Microsoft documents on the go. The catch is that You have to be an Office 365 subscriber to use it.
The new app can be used only by people with an Office 365 subscription, which costs $100 a year or $10 a month. A bit of disappointment for Android and BlackBerry   and also APPLE IPAD USERS as its not available on these devices.
Ipad users can use a Web version of Office, which requires a constant Internet connection. The app comes with some limitations as you can create new documents in Word and Excel, but not in PowerPoint, which comes only with viewing and editing capabilities.
About Microsoft's Office mobile for iPhone

The app comes with pared-down versions of Microsoft's Word, Excel and PowerPoint software.
For the latest technology news and reviews, like us on Facebook or follow us on Twitter , youtube and pinterest
Features and requirements
It is free to download from Apple's app store now  in the U.S.  with other countries to follow in the coming days.
Office 365 subscription information needed  to activate the app.
Subscription costs $100 a year or $10 a month, allows use of Office on up to five Mac and Windows computers and up to five iPhones.
App works on the iPhone 4, 4S and 5 and the iPod Touch model.
Requires version 6.1 or later of the iOS operating system.
It can be installed on iPads with that operating system, but it isn't optimized for the tablet's larger screen.