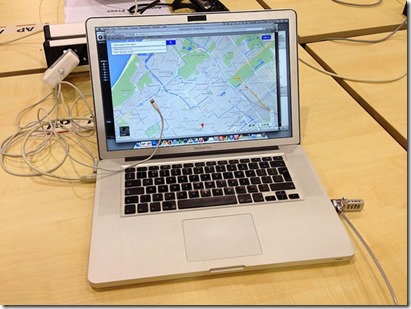 Image courtesy of Patrick Rasenberg via Flickr Creative Commons
Nearly every aspect of our daily lives has become intertwined with our personal computers and laptops – and laptop security has become crucial for shopping and banking, to researching and actually working. In fact, nowadays, it's become entirely possible to work from anywhere in the world, so long as you have access to a laptop and a stable internet connection.
But while laptops and notebook computers have proven to be much more useful, being more powerful than smartphones and more portable than desktop PCs, they're also notoriously prone to theft – both virtual and physical. In fact, eSecurity Planet reports that more 12,000 laptops go missing in the United States each week – and that's only at airports! When this happens, the chances of you getting your hands back on your laptops are slim, but this doesn't mean that you also have to say goodbye to the data left in your hard drive.
Using passwords, firewalls, antivirus software, and anti-malware solutions can help in blocking unwanted or unauthorized access to your files in the event of theft. These measures, however, are easily bypassed by computer experts. Luckily, there are many other security devices that can enhance your laptop security, such as:
Laptop Privacy Filters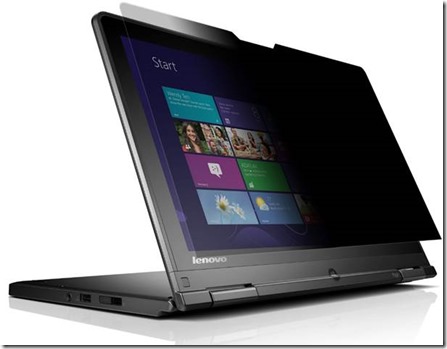 Image courtesy of Lenovo
Sometimes, we use our laptops in public places to check our social media pages or even transact businesses on eCommerce sites. In this scenario, we should be worried about the prying eyes of strangers and passersby than cybercriminals. A simple solution to this dilemma is by using a laptop privacy filter. Lenovo's 3M Privacy Filter utilizes their patented microlouver privacy technology which makes it impossible for passersby to see sensitive information on your screen such as credit card info and social security digits. Only people who are directly in front of the display can clearly see the details flashed on the laptop screen.
Third-Party Fingerprint Reader USB devices
Image courtesy of etradeasia.com
The entire tech industry is now slowly implementing biometric security as the ultimate solution to prevent unauthorized access and act as a second wave of security feature to alphanumeric passwords. Even mobile devices are now implementing this solution. Last year Apple added a Touch ID fingerprint reader on their flagship iPhone 5s. This trend was adopted by Samsung in their latest Galaxy device model. The Samsung Galaxy S5, according to the tech specs provided by O2, has a touchscreen and home button that recognizes one's fingerprints so no one else can access its content, apart from the owner.
While some laptops are equipped with this hardware, most aren't. We recommend purchasing a third-party peripheral that acts as a fingerprint reader like the plug-and-play M2SYS M2-S1, featured in PC Mag, this peripheral replaces your username and password with a built-in biometrics security suite that interacts with your computer's system BIOS (Basic Input/Output System).
Alarmed Computer Lock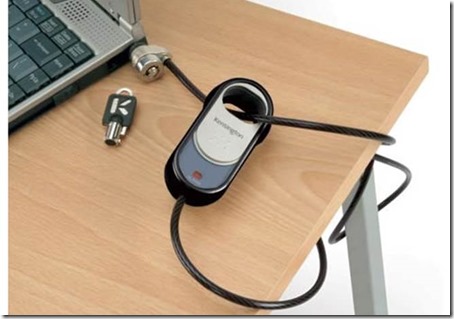 Image courtesy of cableorganizer.com
For those of you who like to lounge with your laptop in public places such as the coffee shop, having an alarmed computer lock system can prevent cases of theft. The Kensington MicroSaver Alarmed Computer Lock is a 6-foot covered steel cable with an electronic alarm on one end, and a T-bar lock on the other. It takes a key combination to unlock it, thus securing your device to a desk, a table, or other difficult-to-move piece of furniture. So, when you go to the restroom and someone tries to steal your valuable, the hardware will alarm that can be heard for up to 50-feet away.
Web History USB Memory Device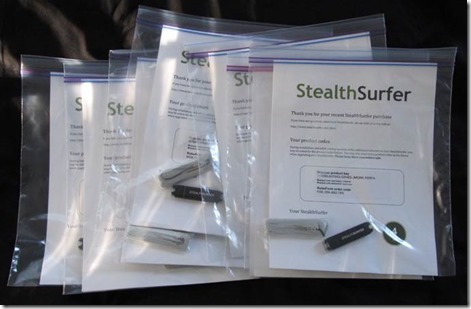 Image source
If someone steals or borrows your laptop, they can easily access your web-surfing history, including your passwords and auto-login details (usernames and credit card details). With Hush Communications StealthSurfer, you can easily conceal your web history and files from anyone who will try to retrieve your online transactions. Instead of storing your online activities on your laptop's local drive, this USB device automatically stores them instead. The thumb drive has pre-installed applications such as Firefox and Thunderbird where you can use for your browsing activities. So long as it is plugged in and you're running the applications from the flash drive, you're protected. It also comes in 4GB, 8GB, and 16GB and acts as a flash storage.
Network Activity Peripheral Device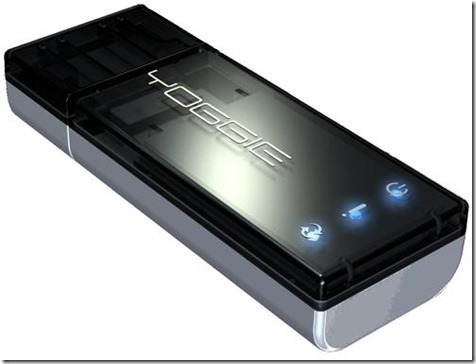 Image courtesy of ghacks.net
This piece of hardware is very useful for people who need a corporate-level security on their laptops. We recommend is the Yoggie Pico Personal, a small USB device that acts as a key to process all your network traffic on your laptop. It is a Linux-based computer with a Pentium 3 processor that once configured with your machine, thirty security applications are loaded into your computer drive, including the ones from SurfControl, Kaspersky, and Sourcefire. When you remove the peripheral, all network activities will be blocked.
Conclusion
These are some of the digital laptop accessories/peripherals that can enhance the security of your laptop. Ideal for people who are always-on-the go, some of these hardware add-ons can prevent virtual or physical theft. But, keep in mind that the ultimate safety of your laptop still depends on your hands.
"Jennifer Birch loves to write about the latest trends and practical tips in everyday tech. Follow her on Twitter @WrittenByJenni"