The good: The Netgear WNDR3800 N600 Wireless Dual-Band Gigabit Router – Premium Edition offers excellent ease of use, fast wireless data rates, and long range and stable performance . This wireless router supports true dual-band, IPv6,  cloud-based storage and also  has parental control features.
The bad: The Netgear WNDR3800 N600 doesn't support the faster 450Mbps wireless standard, and its USB storage performance could use some improvement.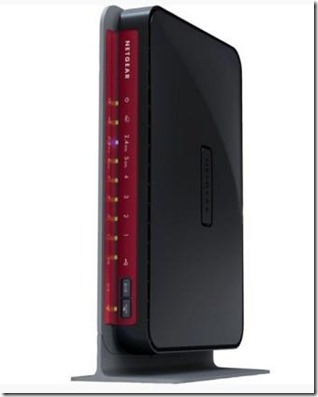 Part No: NTG0012 MPN: WNDR3800-100AUS
Advanced Features for Netgear WNDR3800 N600 Wireless :
Clear Channel Selector—Dynamically avoids busy Wi-Fi channels for clear and fast wireless connections automatically
ReadySHARE® Cloud‡—Access and share files on an attached USB hard drive anywhere you have an Internet connection
ReadySHARE® Printer—Wirelessly print from your Mac or PC to a connected USB printer
ReadySHARE® USB—Wirelessly share a USB hard drive with Macs and PCs
Time Machine® compatible—Automatic Mac backup to connected USB hard drive, wirelessly
Live Parental Controls with flexible and customizable filter settings
Simultaneous Dual Band—Runs both 2.4 and 5 GHz bands concurrently
Video mode—Dedicated wireless network for video streaming
DLNA—Stream media to DLNA® HDTVs, Blu-ray™ players and game consoles
Extend TiVo® Storage—Playback archived TiVo® recordings from attached USB Storage
Broadband usage meter measures Internet usage
Power and Wi-Fi on/off buttons
System Requirements
Broadband (cable, DSL) Internet service and modem with Ethernet connection
2.4 or 5.0 GHz 802.11a/b/g/n specification wireless adapter or an Ethernet adapter and cable for each computer
Microsoft® Windows 7, Vista®, XP®, 2000, Mac OS®, UNIX®, or Linux®
Microsoft® Internet Explorer® 5.0, Firefox® 2.0 or Safari 1.4 or higher
Use with an N600 Wireless Dual Band USB Adapter (WNDA3100) for maximum performance
Supports Windows® 8


Performance
680 MHz powerful MIPS 32-bit processor
Memory: 16 MB flash and 128 MB RAM
Five (5) (1 WAN, 4 LAN) Gigabit Ethernet ports
Advanced Quality of Service (QoS)
Supports Wireless Multimedia (WMM) based QoS
Security
Multiple SSID guest networks (separate security and access restrictions)
Business-class Wi-Fi security and firewall— High-level wireless security for the home
Wi-Fi Protected Access® (WPA/WPA2—PSK) and WEP
Double firewall protection (SPI and NAT firewall)
Denial-of-service (DoS) attack prevention
Surprisingly this wireless router offers something that the N900 doesn't: the ReadyNAS Cloud feature that enables access to data stored on a connected USB external hard drive via the Internet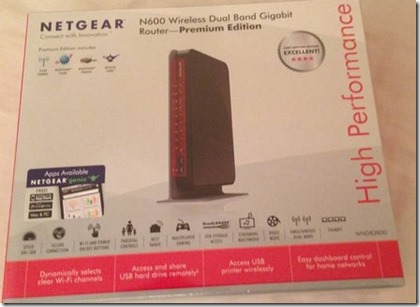 If you are not the techy kind and don't want to bother with customizing, the N600 comes preconfigured with a network's name and its encryption key printed on a label on its side and all you have to do is plug the router into an Internet connection, such as a cable modem, turn it on, and you're good to go.
This wireless router retails between $80 to $217 in retail shops and is available at most popular gadgets shops like Harvey Norman, Bing lee , Dick smith,  etc
If you lucky you might find one at your local ebay or Gumtree website
Other similar modems or wireless routers
Img refs: http://reviews.cnet.com

NetGear N600 Wireless Dual Band Router WNDR3400

Starting at$71.73

 

Linksys EA4500 Media Stream N900 Smart Wi-Fi Router

Starting at$120.32