Projectors are a favourite toys for boys and the the mini projectors for ipad and smartphones are becoming more popular . Here are some that are made for your popular  ipad and iphones. They are small , powerful and do the job pretty well .
Pocket Wifi Wireless Mobile Cinema Multimedia DLP Projector F iPad Air iPad Mini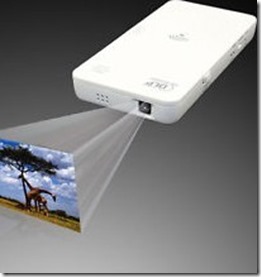 Retails for AU $264.99 on ebay
Features
·Can used be a emergency mobile power bank, not only for itself for other mobile devices
·Signals within 500 meters
·Play videos/ music/ pictures inside your mobile phone
·LP technology for sharp and colorful pictures
·LP Pico project with ANSL 50 lumens for picture size of up to 150cm (60")
·Support almost all kinds of video/ music/ photo format playback
·Features embedded rechargeable battery for mobile usage
·Modern, energy-saving RGB LEDS for up to 20000 hours of lifetime
·Support popular tablet, smart phones and notebook PCs
· Mobile video supports push function , but  only presenting the rate of progress, cannot be synchronized playback with projector.
The iPad Pocket Projector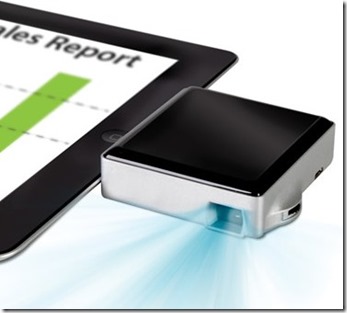 This is one of the best portable devices. It is very durable.It worked very well. Although the pictures were not as sharp as they would have been on my full-sized projector, they were quite good enough for the purpose. Not compatible with iPad mini
Its a  pocket-sized projector that connects directly to an iPad to instantly display enlarged views of photos, movies, and presentations.
Its 35-lumen LED produces 6″ to 60″ diagonal images from 8″ to 78″ away with a 4:3 aspect ratio and the projector's has a  640 x 480 pixel resolution. It has a internal lithium-polymer battery provides two hours of projection and recharges via USB with the included cable.
Pico Pocket Projector for Iphone/ipad/android Smartphone,wvga,media Player,3000mah Battery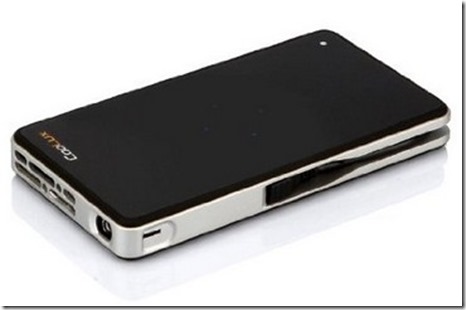 Retails for $299.99
100 ANSI lumens Brightness,854 x 480 Resolution,1000:1 Contrast Ratio
3000mah Battery,Power Bank Pack,Portable External Battery Charger for iPhone 5, 4S, 4
Vibrant Color Technology with 20,000 LEDs ; LED flashlight
Built-in MHL Cable and Media Player and ,can play MP4, MP3, AVI, JPG
Up to 100 inches image (in low-light conditions)
I do research on gadgets and shopping online, don't necessarily buy them