Impulse buying is such a good thing, because with impulse buying you get to suffer the guilt only later or then gloat at your new bargain if done properly as  in my case. Its pretty much taking a chance. luckily for me it paid off.
Bargaining at JB HI FI  for a Sony Handycam SX43E ..Oh yeah
Off to holiday soon , so  i was in the city browsing for a camera and sauntered into JB HI FI , saw a couple of models Panasonic  ($393)and sony handy cam($393) with crossed off priceswith sticker on them  telling me to ask the salesperson for a price. I though i will give it a shot  and asked the salesman  what he could offer me  . he said $350 and said the "Sony handy cam"  was the best among the lot and he would choose it for himself , Though the black panasonic model in  the display case was looking quite flash and nice for the same crossed off price  , he said he could not bring that down as cheap as $350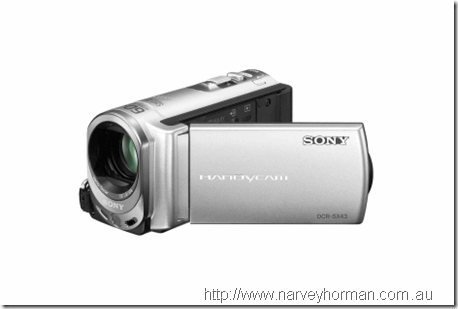 So i  settled with his technical knowledge to choose the sony handycam , but  gave it another shot and asked him to throw a memory card in  as well ( no luck) , but still good  settled with the JB HI FI SALESMAN  FOR $360 with  a 2 Gb memory card thrown in  as well which costs another $19.95 if bought separately ( so it cost me only $10)
It was a "pretty good deal" that saved me approx $40 or even more if you consider buying it from some online sites ( with  the freight charges included  as well)
Creating movies has never been so easy so go ahead  and get a sony handy cam  for your holidays or then to just get creative and make some  home videos. Whether you are the next Stephen Spielberg or just another budding producer director or enthusiast you  will want the "Sony Handycam DCR-SX43E" in your hands when  wanting to capture that   video you so much wanted to record.
You can check  out sony's  handy cam latest model  on Amazon over here Sony HDR-XR150 120GB Hard Disk Handycam Camcorder Kit, with Sony Movie Studio HD Soft
The useful features in this model (Not the standard features that are in most Digital cameras)
Transfer files direct to external HDD/ USB drive
Store your memories in a whole new way with the ability to copy videos from your camcorder directly to an external hard disk drive or USB Microvault

High Quality Lens with 60x Optical Zoom
The high-contrast Carl Zeiss Vario-Tessar lens was an original design from Germany that is world-renowned for delivering quality images. Delivering uncompromised, accurately detailed and realistic photos with excellent contrast, you're sure to get the perfect shot. With an astounding 60x optical zoom, capture the atmosphere and energy that reverberates around everyone in a sporting event, funny home video, celebration or special events

Easy YouTube Upload
The supplied Picture Motion Browser software makes uploading your footage to YouTube (or your favourite online service) easy! PMB automatically converts footage to a smaller file size and assists you in uploading clips to the web.

Built-in LED Video Light
Thanks to a built-in LED video light, you can now shed some light on your subject and record clearer, more colourful videos and pictures, even in low light conditions
With Carl Zeiss® Vario-Tessar® 60x optical zoom lens for capturing extremely tight shots, even from far away. There's also a built-in LED video light which makes it easier to capture the moment in low-light situations.
• Carl Zeiss 60x Optical Zoom Lens
• DVDirect Express and Direct Copy
• Face Detection
• Smile Shutter
• Compatible with Memory Stick™ and SD/SDHC Memory cards
• Picture Motion Browser for easy management of video and photos
Specs at a glance :
Sony Handycam DCR-SX43E Digital Camcorder – 6.9cm (2.7") LCD Touch Screen with Carl Zeiss Vario-Tessar Lens, Video Light, Face Detection, 60x Optical Zoom & 2000x Digital Zoom – Silver
Detailed SPECIFICATIONS
SD Video Codec
MPEG2-PS
Media Storage Type
Memory Stick PRO Duo™ / PRO (High Speed) / PRO Duo™ (Mark2) / PRO-HG Duo™ / SD/SDHC Memory Card
HYBRID
Movie Recording on Memory Stick™ and SD/SDHC Memory Card Card
Image Sensor
1/8" CCD
Lens / Filter Diameter
Carl Zeiss® Vario-Tessar® / 30mm
Optical / Digital Zoom
60x / 2000x
Audio Format
Dolby Digital 2ch.
Zoom Mic
Yes
Maximum Still Image Resolution (Photo Mode)
720 x 480 (4:3)
Image Stabilisation
SteadyShot
LCD Screen Size & Type
2.7" Clear Photo LCD (230K dots / Wide 16:9), Touch Panel
Built-in LED Video Light
Yes
Face Detection
Yes
Record Start / Stop & Zoom Buttons on LCD Frame
Yes (shown on LCD screen)
Direct Copy
Yes
Quick Startup
Yes
USB Terminal
Yes (USB 2.0 High Speed)
Dimensions (W x H x D)
50 x 55 x 112mm
Mass (w/o Tape, Battery, etc.)
Approx. 190g
Supplied Accessories
AC Adaptor
Yes
Rechargeable Battery Pack
NP-FV50
AV Cable
Yes
USB Cable
Yes
Application Software
Picture Motion Browser
Manufacturer Contact Information
• Website: http://www.sony.com.au/index.jsp
• Phone Number: 1300 137 669
• Support Website: http://www.sony.com.au/category.jsp?id=21593
• Support Phone Number: 1300 137 669
 

Australian Robert Ludlum Bookstore
Article written by sheldon singh for www.narveyhorman.com.au
The call me the G-man.. Yeah thats rightthe G -man I am not a Guru, Jedi, Rock Star or a Ninja. I'm just a guy that knows an awful lot about a bunch of stuff and I'm not afraid to tell it like it is.
My stuff is really good. It's different. I think you'll like it. You should really check it out. You might actually learn something...if not, maybe you can teach me something.