Tope gear  needs no introduction , i you like car boats and other vehicle you already know about this now popular UK program that is aired in most countries  on television. Gadgetaustralia.com Is giving you the chance to win the book "Top Gear  the best bits V.2" to  all its fans.
What's needed to enter the  "Win a  Top gear Book  competition" ?
Upload a pic of you favourite gadget on the entry form and tell us why you like you gadget in the Photo caption
Like our Facebook page on entering competition
Pic ( and link )below of the competition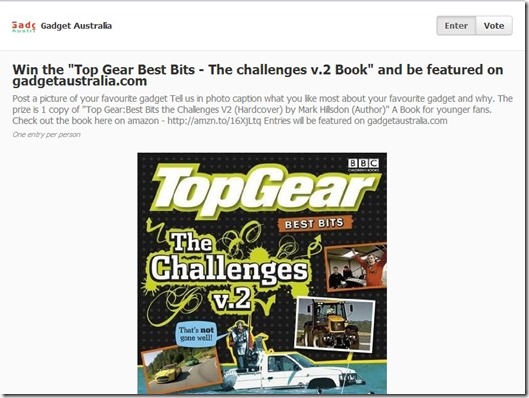 Go to our contest over here for ENTRY
Amazon review of book

Top Gear books for younger fans. Adults keep out! Another exciting and fact-filled Best Bits book to keep little petrol heads amused. Jeremy, Richard and James attempt some difficult challenges…just for fun! Can they find the world's best driving road? Or build their own kit car? Or sail from Dover to Calais in an amphibious car? How hard can it be?
Competition : End Date2013-11-20 19:44:46
Currently: 1 Prize Book copy on offer
According to Wikipedia

Top Gear is a British television show about motor vehicles, primarily cars, and is the world's most widely watched factual television programme. It began in 1977 as a conventional motoring magazine show. Over time, and especially since a relaunch in 2002, it has developed a quirky, humorous and sometimes controversia style. The show is currently presented by Jeremy Clarkson, Richard Hammond and James May, and has featured at least three different test drivers known as The Stig. The programme is estimated to have around 350 million views per week in 170 different countries.
Related Top Gear  Links