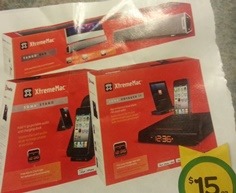 Crazy !! Yes the prize certainly sounds crazy doesnt it – checked online websites and was amazed at the prices quoted for the same XtremeMac  soundbar on other websites.

So what brand is the soundbar ?
The "soundbar – XtremeMac Tango Bar speaker" is a 10 watt amplified speaker, with a single USB connection for both power and audio, that connects to any Mac computer. Its six-speaker configuration  includes dual dome tweeters, midrange/bass drivers, and passive radiators which  gives you high quality audio.

You can also connect it to headphones for personal listening and its got a line-in jack for use with MP3 players, and optional sub-out port.
Guess what the apple store price is ?

Now check out what this weeks Woolworths brochure price is below!!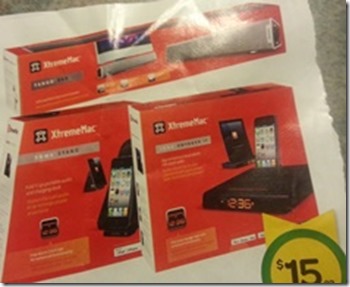 Here is the online Woolworths brochure featuring the specials  for this sound bar
$15 at Woolwoths stores stocking it
For once its the americans who are getting ripped off , grab this special offer at your nearest woolworths store  before stocks run out !!
Features of the tango soundbar
10W amplified USB-powered technology
Single USB connection for both power and audio
Stereo dome tweeters and midrange drivers for superior audio
Dual passive radiators for an extra kick
Connections for headphone output, line-in jack, and optional sub-out port
Backlit volume control
Power from any computer USB or charger USB port
Works with both Mac and PC
Even the amazon price suprised me !! Link below
RRP:
£89.99
Price:
£87.25 & FREE Delivery in the UK. Details
Like our facebook page

Follow me on Google +