New tablets in
australian
market
Optus has just released the new ZTE android tablet  .. which is going to give a "apple  ipad" a run for their money .specially taking into account the  difference in price factor. The "ZTE android tablet" has already ben launched in the UK with  different telecom providers
The ZTE ANDRIOID doesn't have a 4.3-inch display like the Droid X or the EVO. Its display is a modest 2.8 inches, and with a much lower resolution. Nor does the Racer have a gigahertz processor like the aforementioned phones; the Qualcomm (Nasdaq: QCOM) chip that powers it runs at a mere 600 MHz. Its camera clocks in at a mere 3.2 megapixels.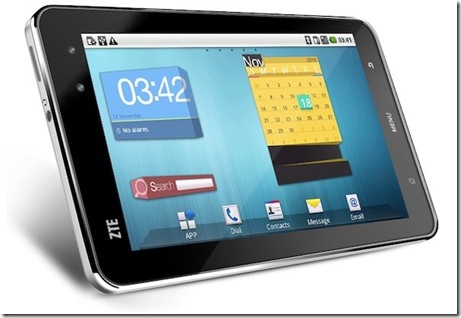 Optus australia launches New my tab or ZTE android Tablet
Full ZTE Light ( Optus My Tab)  Specifications:

7-inch resistive touch screen [800×400]
Android 2.1 (ZTE promising an update to 2.2 later )
512MB RAM
512MB ROM
WiFi
Bluetooth
WCDMA 3G connectivity
GPS, FM
Support for SD cards
3400mAh battery lasting 10 hours
Rear-facing 3MP camera, and a front-facing VGA webcam ( optional)
403 grams
ZTE Light helps to make the internet more portable with its faster browsing experience and 7 inch TFT touch screen.  Weighing only 403g ZTE Light is perfect to take with you anywhere and with the utmost of ease.
ZTE Light also supports voice calling on dual band UMTS 2100 MHZ/900 MHZ , GSM 850 / 900 / 1800 / 1900 MHz and internet access on HSUPA network with a download speed of up to 7.2 Mbps and an upload speed of up to5.76Mbps. The device packs smart processing capabilities as it features 512 Mb RAM and 512 Mb ROM and based on Android 2.1 Operating system.
The call me the G-man.. Yeah thats rightthe G -man I am not a Guru, Jedi, Rock Star or a Ninja. I'm just a guy that knows an awful lot about a bunch of stuff and I'm not afraid to tell it like it is.
My stuff is really good. It's different. I think you'll like it. You should really check it out. You might actually learn something...if not, maybe you can teach me something.