Our pick of the "best selling aussie gadgets" for 2010 collated from the best selling websites like Ebay , Amazon and Popular Gadget blogs etc.
What better time to get your gadgets from  the internet , the Australian dollar has just broke parity with the US dollar  and suddenly  buying from far away US certainly looks cheap with many electronic goods priced much cheaper in US dollars  to our buying benefit. Below our some of the "top selling  Aussie gadgets".
Australia 2010 most popular gadgets
1.KINDLE EBOOK READER
The Kindle is an electronic reading device for downloading, storing, and reading electronic books, which are also known as e-books. It was developed by Amazon and is now Amazon's Number One best selling product. There are literally thousands of books that you can read on the Kindle. The Kindle is as thin as a magazine but holds up to 3,500 books, magazines, stories and documents. The Kindle is very lightweight and you can think of it as your own personal, portable library.
The new Kindle models released : the "Kindle Wi-Fi" and "Kindle Free 3G+Wi-Fi". The big news is price, at least for the Wi-Fi  Kindle model looks cheap at: $139.
Review : kindle  With WI-FI and browse this  Amazon kindle shop
2. APPLE IPOD TOUCH 32 Gb
The 32GB iPod Touch is just one of 100's or evens 1000's of electronic gadgets that we painstakingly search for on the world wide web. What makes the iPod Touch so special is the un-believable intuitive touch screen which as we all know is what makes sets the Apple iPod touch apart.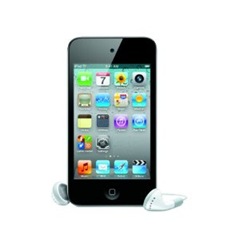 The Apple iPod Touch 32gb (3rd generation), is currently the best selling electronic gadget on the market, lets take a look and understand the reasons why.
Nobody is going to argue with the fact that the Apple iPod Touch is "The Best" Mp3 music player around
Browse or buy the APPLE IPOD TOUCH  32 GB here- > Apple iPod touch 32 GB (4th Generation) NEWEST MODEL
3. Apple iPad MC497LL/A Tablet (64GB, Wifi + 3G)
In Australia pricing starts at $629 for the 16GB Wi-Fi model, with the 32GB version at $759 and the 64GB model at $879. The entry-level 3G iPad (which also includes GPS and 16GB of storage)  is $799; the 32GB model comes in at $929, with the flagship "64GB 3G iPad at $1,049".
The Apple iPad is now readily available in 10 countries, and on present changing exchange rates, Australia is the third least expensive location to buy the brand new gadget. check out prices in Amazon here -> Ipad in Amazon
to see if you can get it cheaper from the US.
Apple gadgets have topped the aussie top list  for 2010 as the favorite  gadgets
4. GPS – "TomTom XXL 540"
The XXL 540S provides Tom-tom's usual impressive navigation features, and adds a roomy 5-inch screen.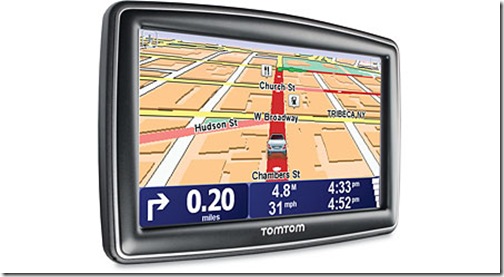 If you're a believer in the mantra "size matters" then TomTom's XXL 540may just hit the sweet spot. It's kitted out with the GPS market's surprise hit of the 2009/2010: a large screen. In this instance, the TomTom has gifted the XXL 540 with a 5-inch screen. Many thanks to the unit's round corners, curved edges and relative thinness it's not necessarily as visually imposing as the 5.2-inch Garmin Nuvi 5000 or 5-inch Uniden Trax 5000.
DICK SMITH is offering the very new arrived TOMTOM XXL 540 for only $347,In America they are only $269 US dollars, are we being ripped or what.!!! Conversion $297 ( maybe lesser now) Oz dollars as of today.The TomTom XXL 540 S improves on the TomTom XL line by maintaining the features we love while improving screen visibility; however the bigger size comes with compromised portability . You can check this out  the  TOMTOM XXL 540 at  Amazon for just $119.95 USD HERE ( check for latest prices on related websites and updates foreign exchange rates to determine updated prices  in relation to this article ) Browse more Tom tom GPS Units at Amazon
5. Rebel Canon EOS T1i 15.1 MP CMOS Digital SLR Camera
Canon rebel Ti digital SLR
This is the same body as the XSi, and therefore a bit on the smaller side compared to other digital SLRs. I have small hands, so the T1i is comfortable for me. If you have big hands, I can see this being a very difficult camera to use over an extended period of time. If you haven't handled a Canon XT, XTi or XSi, I would suggest you go to a store and hold the T1i yourself before purchasing it online.
If you are getting this camera don't forget to  Buy the Sandisk Extreme III card , it works the best with this camera – Sandisk Extreme III card
. Browse or buy the  Canon Rebel T1i Camera on Amazon here
Buy the SanDisk card from Amazon here. You can also read and extensive review of this Video Camera over here – rebel-canon-eos-t1i-15-1-mp-cmos-digital-slr-camera-with-3-inch-lcd-and-ef-s-18-55mm-f3-5-5-6-is-lens/
6. LAPTOP – Sony VAIO VPC-W211AX/L 10.1-Inch Blue Netbook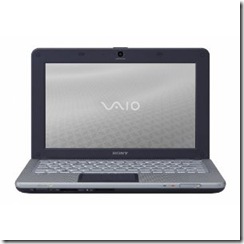 Its got Up to 8 Hours of Battery Life
Specs for Sony VIAO -Technical Details
1.66GHz Intel N450 Atom Processor
1GB DDR2 667MHz Memory; Intel Graphics Media Accelerator 3150
250GB SATA Hard Drive (5400RPM); Bluetooth Technology; Wireless 802.11 b/g/n
10.1″ LED (1366×768) Display; Integrated MOTION EYE Camera & Microphone
Microsoft Windows 7 Starter (32-bit); *Up to 8 Hours of Battery Life
Product Dimensions: 7.1 x 10.5 x 2 inches ; 2.9 pounds
Shipping Weight: 4.7 pounds
7. Sony HDR-XR150 120GB Hard Disk Handy cam
Equipped with an "Exmor R" CMOS sensor for superior low-light performance, it also has Steady Shot image stabilization with Active Mode and 3-way Shake Canceling, which enables you to capture remarkably smooth video.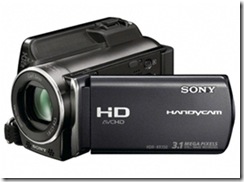 Capture stunning 1920 x 1080 high-definition video and 3-megapixel still images with the HDR-XR150 Handy cam camcorder.  You can also record and store your memories to the 120GB internal hard disk drive. Go handheld and capture remarkably smooth video thanks to integrated Steady Shot image stabilization with Active Mode. Capturing smiling faces has never been easier thanks to Face Detection and Smile Shutter technologies. Plus, the vibrant 2.7″ display is ideal for viewing and composing your shots.10.
You can check  out sony's  handy cam latest model  on Amazon over here Sony HDR-XR150 120GB Hard Disk Handycam Camcorder Kit, with Sony Movie Studio HD Soft
Read the review : sony-handycam-sx43e
8. Flip UltraHD Video Camera – Black, 8 GB, 2 Hours (3rd Generation) Newest MODEL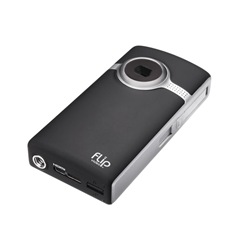 Flip Ultra HD 2Hour Pocket Video- The Flip UltraHD™ camcorder combines Flip Video's signature shoot-and-share simplicity with the power of vivid, vibrant HD video. With 120 minutes of record time, you'll never miss another minute again. And because of UltraHD 's pocket-sized portability, you'll truly be able to capture HD video anytime, anywhere . It Records high-quality H.264 videos that work with most video-playing applications, including Windows Media Player, QuickTime Player, and iTunes Get more details  and specs for the camera from Amazon over here – Flip UltraHD Video Camera – Black, 8 GB, 2 Hours (3rd Generation) NEWEST MODEL
9.Transcend 8 GB Class 6 SDHC Flash Memory Card (TS8GSDHC6)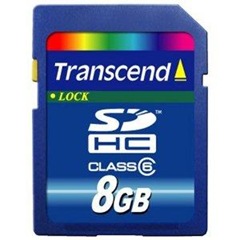 Transcend high capacity SD card series is specifically designed to meet the High Capacity, High Definition Audio and Video requirement for the latest digital cameras, DV recorders, mobile phones, etc. The defined Speed Class enables the host to support AV applications to perform real time recording to the SD memory card. Browse or Get your Transcend Memory card from  Amazon over here – Transcend 8 GB Class 6 SDHC Flash Memory Card TS8GSDHC6
10. Microsoft Windows 7 Home Premium – English DVD
Windows 7 Home Premium makes it easy to create a home network and share all of your favorite photos, videos, and music. You can even watch, pause, rewind, and record TV (a broadcast TV tuner may be required). Get the best entertainment experience with Windows 7 Home Premium.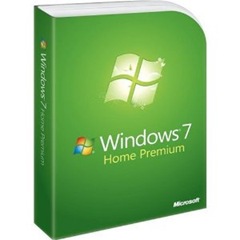 Features at a Glance
Windows 7 Home Premium (includes 32-bit & 64-bit versions) makes it easy to create a home network and share all of your favorite photos, videos, and music–you can even watch, pause, rewind, and record TV
Make the things you do every day easier with improved desktop navigation
Start programs faster and more easily, and quickly find the documents you use most often
Make your web experience faster, easier and safer than ever with Internet Explorer 8
Easily create a home network and connect your PCs to a printer with Home Group
Browse or buy  the –> Microsoft Windows 7 Home Premium
for $176.99 or get the upgrade – > Microsoft Windows 7 Home Premium Upgrade
for $116.99
Related Links:
http://itgeeks.bundublog.com/2010/03/29/bestselling-electronics-20100329/
The call me the G-man.. Yeah thats rightthe G -man I am not a Guru, Jedi, Rock Star or a Ninja. I'm just a guy that knows an awful lot about a bunch of stuff and I'm not afraid to tell it like it is.
My stuff is really good. It's different. I think you'll like it. You should really check it out. You might actually learn something...if not, maybe you can teach me something.