The Zotac mini pc is as tiny as they come ,its a tiny PC that packs a punch. The zotac mini nano pc has managed to pack in  Intel core i7 processor and 4gb ram in this mini box.
New Zotac  Mini pc – ZOTAC ZBOX Nano ID65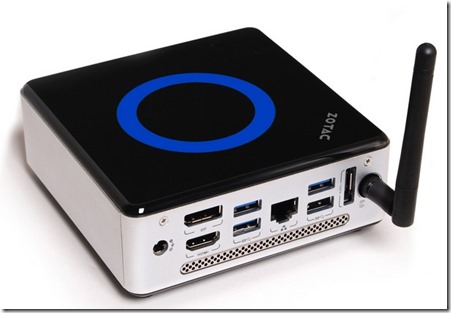 ZOTAC ZBOX nano Intel 2.0 GHz Intel Core i7 Dual Core Barebone
Its it barely larger than  your kids lunch box, but packs a punch  for a mini pc  despite its size.
You get a bracket to attaché the box to back of your monitor which is quite handy
The barebones nano pc comes with no (no RAM, HDD, and OS) but comes with Intel Core i7 3537U 2.0 GHz Dual-Core (Turbo up to 3.1Ghz)
Its memory size is upto 8 mb and its got  10/100/1000Mbps (RJ45), Wifi 802.11n/g/b + Bluetooth 4.0
Video Ports 1 x HDMI, 1 x DisplayPort
it also has a smooth high-quality Blu-ray 3D playback capabilities
The zotac  id 65  minipc Package Contents
1 x ZOTAC ZBOX nano ID65
1 x WiFi antenna
1 x VESA mount
1 x AC adapter
1 x Power cord
1 x Warranty card
1 x User manual
1 x Driver DVD
1 x mini-Optical-to-Optical adapter
1 x ZOTAC nanoRAID storage adapter
The Zotac ZBOXNANO-ID61-U ZBOX NANO Intel Celeron 867 is available at fishpond.com.au for $349 , ebay has some other models for cheaper and the barebones system on amazon retails for $186.99 and the full box  for $531.18
If you can afford to get one of these  definitely get one , we recommend it