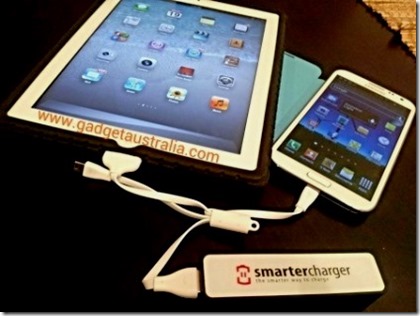 I never realised i needed a  back up charger until i actually got one  for myself recently.
I got the chance to  check out a back up charger  for my smartphone, turns out that i needed it more than i  though i would and it has become one of my  reliable gadgets in my travel bag.
Photo of the smartercharger  charging my ipad and Samsung galaxy note II simultaneously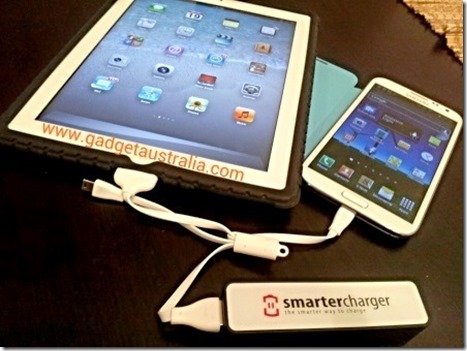 The smart back up charging device
I was quite  surprised with the capabilities of the smartcharger, while its a basic back up charging device for many smart gadgets, the nimble  and flexible cable that  comes with it  allows you  to charge a number of different devices  (iPhones to iPods, Smart Phones – Samsung, LG, Nokia, Alcatel etc., Digital Cameras, Video Cameras and more) with that one cable, making it so easy to charge up your  smart device. Its also available in a range of  different colours.
Image :http://www.smartercharger.com.au/
In-fact this  small little back up  battery when fully  charged via usb  can begin to charge  your smart devices like smartphone or ipad and can also charge two devices simultaneously. It is just like  having a electric socket to charge your devices on the go.  I tested it out  and it managed to charge my Samsung galaxy note 2 and my ipad  at the same time conveniently due to the multi-cable than comes bundled with the smart charger.
The smartcharger pack also comes with a small little keychain ring if you want  to make it your back up battery keychain  and is small enough to carry in your bag or pant pocket without taking much space.
Never again will you be left without power for your ipad , smartphone or eBook reader  while you are on the go  in the bus or train and have your favourite back up buddy, the smart charger
Smarter Charger is a 100% Australian owned and operated company based in Adelaide, South Australia
You can get the smarter charger  from http://www.smartercharger.com.au/