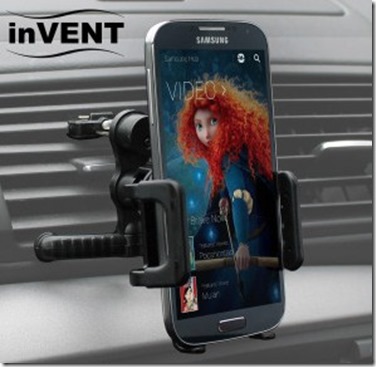 One thing we cant live without in this new age is  our mobile phones, which has made people get in touch anywhere they are and truly mobile since the dawn of this invention. With mobile phones also spawned a  whole new industry of  mobile phone accessories.
inVENT Universal Phone Vent Holder
One of the other things that is also a part of everyday life in many countries is the car , where people spend a lot of  their time in travel , be it to work , school or college. Smartphones need a holder while you are driving  and so it is essential to get the right holder for it , so that you are not left fumbling for it  when you are driving.
The best way to have your smartphone in your car,  is to have it right in front of your eyes and within hands reach when you are driving your car and  possibly also have Bluetooth speaker or headset for hands free wireless conversation for your safety. This is where the invent universal vent holder "smartphone holder" from mobilezap comes into use.
Windscreen suction Holders vs  smartphone car vent holders
The invent universal car Smartphone holder  conveniently plugs into the car air vents  so that you can have your smartphone right where you want it within reach  for those emergencies where you need to take that call. With the universal car vent holder sturdily attached to your car vents, you can be assured you wont miss those urgent or important calls and the smartphone holder will keep your phone safe and handy in your car
I was looking for a phone holder that would hold my phone in a stable but handy position in my car due to the long distances i drive and also because i didn't find the windscreen  holder suitable  with the harsh sun always falling on the phone. So I opted for the universal  vent holder.
This is , by far, the best holder of it's type that I have seen in the car vent holder category. Its easy to install, easy to remove. It holds the phone or sat nav in place, even over bumpy ground. It appears to be well made and robust. For the price, it is great value for money.
There's no need to fumble for your phone if it's securely at hand in this versatile cell phone holder/cradle, which can be wall-mounted or clipped to your car vent. Check out  this car vent holder here and  you can also check out some fancy new HTC  accessories over here at mobilezap.com.au