When i received this email, i was just drawn to it  by the name ( nice markting!!) and i went on to read the whole email.  The cute little toy figure surely got my attention at the Kick-starter website  and  turns out he idea is actually a  great idea and so i am writing about it.
So what is ubooly ?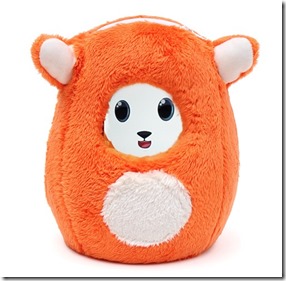 Ubooly is a little toy for kids, that  can  interact with your kid  and be updated on the fly through the internet to do new things as its updated. The website says that it is the perfect formula to get your child's heart pumping and their brain growing.
Ubooly's brain is your mobile device (with this version we will support iPhone, Android, iPod Touch, and iPad Mini).  The phone slides into the ubooly  and the ubooly app cartoon becomes the face in the toy and interacts with the kid, ( just like cuddly toy sleeve for your phone)
The toy talks and interacts with your kid.

According to the kickstarter  website
"Ubooly is your child's best friend, tutor and gym coach all rolled up into a furry marshmallow creature with ears. Boasting one of the best retention scores in the industry, Ubooly will keep your kid engaged for months with fun adventures, experiments, games, jokes, stories, and more!"
THE MAIN GOALS OF THIS TOY AND KICKSTARTErPROJECT IS TO RAISE FUNDS FOR PRODUCTION OF THE TOY &
Goals with Ubooly are :
1.) Build a toy that your kids will play with for a really long time.
2.) Create content that will keep kids active and learning while they play.
If you are interested you can back this project up over here  with your pledge