Soon "smart NFC tags" that can be programmed to do many different things  will become a common thing. Imagine just  tapping you smartphone on the NFC tec tag sticker on your dashboard  and suddenly the GPS turns itself on OR the Bluetooth  on your phone gets turned on  and synced with  the car stereo for hands free  calls , functions similar to this can be done with  the new NFC TEC TAGs and you can get it for $14 for a 5pack bundle from your nearest tech store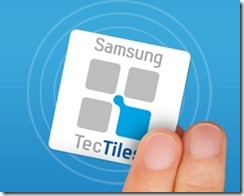 What's a NFC TAG ?
Its abbreviation is near field communication , its software  that lets nearby devices talk to each other and perform functions when  two devices are nearby, like paying  a bill by tapping your credit card  on the pay terminal.
Now you have Samsung NEC tiles  which are essentially NFC tags built into a small sticker  which you can program to do different cool stuff  by using a app to do  the complex work.  For  eg. You can use  the app to program THE NFC stickers to  make your phone blue tooth enabled soon as you tap it on the sticker stuck into your car dashboard
This "NFC tag or stickers" enables your devices to performs smart functions  which can be programmable to do different things.
Using the free Samsung TecTile application, you can create TecTiles to change settings on your phone, launch applications, check-in to places, update social status, or even make phone calls or send text messages automatically.
The tags include a MIFARE 1kB NFC memory chip which supports a 100,000 write lifetime and 10 year data retention period. Once you create a TecTile using the TecTile app, place the Tile in a convenient place, then tap your phone to the TecTile to perform the action stored in the TecTile.
TecTiles are designed to work on Samsung Android smartphones that comply with MIFARE™ technology, including Samsung Galaxy S III.
The TecTiles application which is available on Google Play enables a number of shortcuts to be programmed into the NFC tags.
Below is a list  of some of the NFC tag programmable functions
Settings & Applications
·         Change phone settings (Bluetooth, Wi-Fi, ringer/media volume, screen brightness, etc.)

·         Launch an application

·         Join a Wi-Fi Network

·         Share a contact or business card

·         Show an address on a map

·         Post a tweet or follow a contact on Twitter

·         Connect on LinkedIn
Samsung NFC-Enabled Android Smartphones
·         Samsung Galaxy S III on AT&T, Sprint, T-Mobile, US Cellular and Verizon

·         Samsung Galaxy S II on T-Mobile

·         Galaxy Nexus on Verizon, Sprint and GSM Unlocked

·         Nexus S 4G on Sprint

·         Samsung Galaxy S Blaze 4G on T-Mobile
These new smart NFC tags are now retailing from anywhere between $12 to $16 for a 5 pack  NFC tag pack in stores . Each package comes with 5 TecTile programmable NFC sticker tags. You can check what a NFC Tec tile sticker tag can do here at the Samsung Micro  site

I do research on gadgets and shopping online, don't necessarily buy them