Hi readers , i just received this email from  daniusoft , and given Ipads and iphones   have become the rage here in Australia , check out his offer that  they have to offer  for converting  movies from dvd to  format for playing on apple devices. Here is the offer
Dear harvey Norman,
This is Amy from Daniusoft.
We are running a Giveaway of Daniusoft DVD to iPad Converter (http://www.daniusoft.com/giveaway/free-dvd-to-ipad.html)(offer both Windows and Mac version) from August 17, 2010 to August 31, 2010.
How to get free DVD to iPad Converter?
1.Find Daniusoft on Facebook (http://www.facebook.com/Daniusoft), click 'Like' to get access to the giveaway exclusively for facebook fans.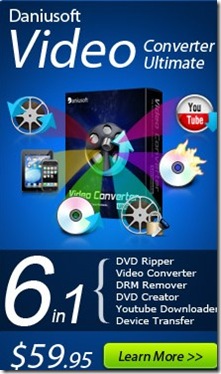 2.Select the version of DVD to iPad Converter, Windows or Mac. Leave your name and email address (so that we can send the keycode to you) and then click 'Get Keycode'.
3.Check out your mail 30 seconds later and download the program to start trying out the program and enjoy DVD on your iPad.
It is honored if you can publish this giveaway on your site so there would be more people getting this useful tool for Free.
Let me know if you interested in covering this giveaway in your site, looking forward to your reply.
Thanks and regards,
Amy Lee
The call me the G-man.. Yeah thats rightthe G -man I am not a Guru, Jedi, Rock Star or a Ninja. I'm just a guy that knows an awful lot about a bunch of stuff and I'm not afraid to tell it like it is.
My stuff is really good. It's different. I think you'll like it. You should really check it out. You might actually learn something...if not, maybe you can teach me something.