I was SHOCKED SUPRISED and PLEASED to check my email today ( 27 th August  2010 ) and see a message pop up from google saying  that i will be "make  calls to the US and UK for free  In 2010"
UPDATE :
Google Now is offering Free online calls from Gmail only to US AND CANADA

The pop up i got in my Gmail today above
"make  calls to the US and UK for free  In 2010"
Google is launching a  new  call service from gmail , what it  essentially does is , you canCall anywhere in the US and Canada for free and get low rates for other countries with this small plugin  from google — right from within Gmail.
This will definitely change the game for many  telephone and  VOIP  phone call providers who are charging premiums for this sort of  free service that google is now giving.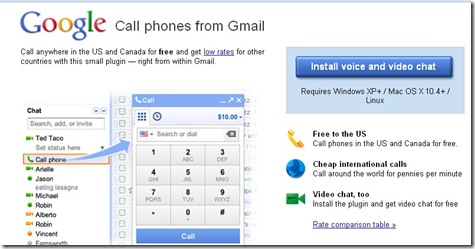 Google announced today that over one million calls were placed using Gmail's free calling service in its first 24 hours.
The service officially launched in US and Canada but a Google spokeswoman confirmed that "Aussies who have their Gmail language set to English US will see that the feature is available to them too".

However, the spokeswoman said only outgoing calls would work for Australians as incoming calls required the Google Voice application, which has not yet been made available to Australians. In the US, people who obtain a free phone number from Google can receive calls on their PC.
Users start with $US0.10 credit, which can be topped up using Australian credit cards.
New Gmail Phone launch with Free Calls
So is SKYPE and  YAHOO VOICE which are my current favorites  gonna step up to the competition now ??
Here is what you can do with skype at the moment
Speak to anyone in the world for free. Invite friends to join Skype and you can chat to them for as long as you like, wherever they are, for free. Say goodbye to quick catch-ups, say hello to free Skype calls.

Call people who aren't on Skype
You can use Skype to call landlines and mobiles worldwide, at amazing rates. Simply dial a phone number, then start saving.View all prices

Google phone comparison  rates for VOIP and Internet phone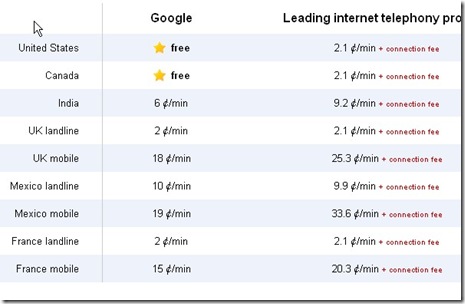 The call me the G-man.. Yeah thats rightthe G -man I am not a Guru, Jedi, Rock Star or a Ninja. I'm just a guy that knows an awful lot about a bunch of stuff and I'm not afraid to tell it like it is.
My stuff is really good. It's different. I think you'll like it. You should really check it out. You might actually learn something...if not, maybe you can teach me something.