A radical new invented camera, lets you adjust the focus after you take a picture. This product by Ren Ng has been in research for sometime and has just begun shipping.
Lytro Camera( Focus later) By Ren Ng Now shipping to markets
The Lytro is the creation of Ren Ng, who started work on the digital camera while studying for a doctorate in computer science at Stanford University in California. Clicking on a Lytro picture taken from the "LYTRO CAMERA" displayed on a computer screen allows a viewer to shift the focus from a subject in the foreground, for example, to a subject in the background.
The 16-gigabyte model of the camera, which is about the same size as a stick of butter and can fit easily in a pocket, costs $US499 and can hold 750 pictures. An 8GB version costs $US399 and can capture 350 images.
This similar  technology long been in the hands only of special intelligence  and secret business now  has gone commercial.. The telescope-shaped camera uses what is known as "light field technology" to allow the focal point of a digital image to be changed after the picture is taken, a feature that Lytro calls "shoot now, focus later".
Lytro website / Pre order / Buy camera — > http://www.lytro.com/
If you are keen on gadgets and like the science behind this you can got to their website, get out your credit card for the preorder
About REN Ng The Lytro guy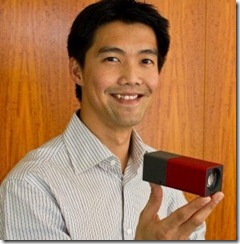 Ren Ng, the founder of Lytro, is passionate about light field photography and making the technology available to consumers.  After  an exciting buy of  his first digital camera, Ren Ng tried to take a photo of a family friend's Bubbly 5-year-old daughter. Like  any young  and energetic children, it was incredibly difficult to focus the image properly and capture her smile. And then it came to him — what if you could take a picture, and then adjust the focus later ? After much research "the Lytro" was born.
The thesis of light field Photography ( pdf file) By REN ng
The call me the G-man.. Yeah thats rightthe G -man I am not a Guru, Jedi, Rock Star or a Ninja. I'm just a guy that knows an awful lot about a bunch of stuff and I'm not afraid to tell it like it is.
My stuff is really good. It's different. I think you'll like it. You should really check it out. You might actually learn something...if not, maybe you can teach me something.