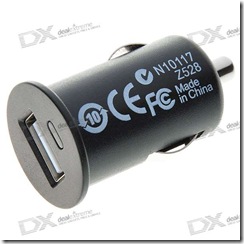 Yeh ! its true  that you cant really get a charger for  your new Samsung galaxy for this price ,( it would be ridiculous) but there is a way around it .
What normally  a samsung charger for your galaxy i9000 would cost ?
This samsung Galaxy Car charger for Samsung i9000 will cost you anywhere from 10 pounds to $12 to $15 USD
If you got  Your mobile  in a box  you would have got a usb  connection cable for free with the mobile , All you need is get this adaptor for $1.99 for your ( cigarette lighter to USB ) point in your car  and you can use the USB cable you got with the phone to recharge you Samsung mobile
Car Cigarette Powered 1000mA USB Adapter/Charger – Black (DC 12V) or –> white model
Now you can also us your "free inbuilt Roadmap GPS Navigon" in your Samsung i9000 Smartphone in your car without fear of the mobile running out of battery.
Samsung Galaxy USB Data & Charging Cable for Samsung i9000 (1M-Length)
You can also check out the "USB Data & Charging Cable for Samsung i9000 (1M-Length)" cable  which you can get for a low "1.80" at the store
The call me the G-man.. Yeah thats rightthe G -man I am not a Guru, Jedi, Rock Star or a Ninja. I'm just a guy that knows an awful lot about a bunch of stuff and I'm not afraid to tell it like it is.
My stuff is really good. It's different. I think you'll like it. You should really check it out. You might actually learn something...if not, maybe you can teach me something.