Technology is great  and its good to see some devices  actually  doing  useful stuff for the consumer, instead of them only trying to make a buck . One thing on my wish list  was buying a smart TV in the future , but today i think that  urge to get a new smart TV just  got a bit less urgent.
What i used to play YouTube videos on my TV  from smartphone wirelessly ?
A WD LIVE media Box ( Other Media boxes' with Youtube  on it might be compatible)
My Samsung galaxy note 2 smartphone ( other Android phone might be compatible)
And Wi-Fi connection on my smartphone
My Samsung TV ( Other TV's might be compatible)
Today i turned on my  WD live Media box and  clicked on you tube  and  i noticed i now had the option  to  pair my smartphone with you tube  to watch  YouTube from my phone directly on my TV.
I was a bit sceptic  that  my WD live Media box  and you tube had such advanced functionality to do the job, but i thought i would give it a go as it looked quite simple and quick to get it done , with  the next screen on my t v  telling me  to enter a code on my smartphone ( after going to www.youtube.com/pair  on my mobile device).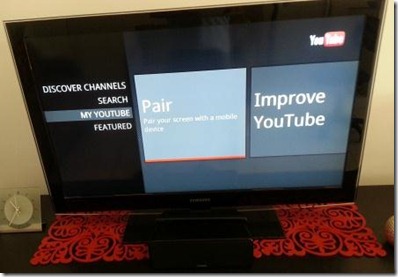 (pairing  screen on my Samsung  TV)
Good bye to those messy wires and hello to wireless streaming from mobile phone to tv
I entered that code  on my Samsung galaxy note 2  gave the device a name  and clicked ok  and clicked play on a you tube video on my smartphone  and  it started playing on my  TV immediately.  ( How to connect –details below)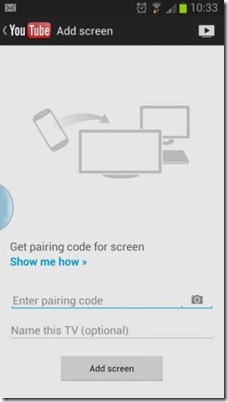 ( screenshot of my phone: pairing screen )
Just like that  Magic  video on my smartphone began to play on my TV , you can press play  on your  you tube video on your mobile and it starts to play  on your TV , or press pause  and then you can pause the video playing on your TV , or then you can also let it play while browsing for other videos on your mobile to queue to play  on your TV ( awesome )
If you have a  android smartphone  and a  you tube on your media box or smart TV  , you can  get this setting sorted out  under the my youtube tab in t he setting of your media device or smart TV.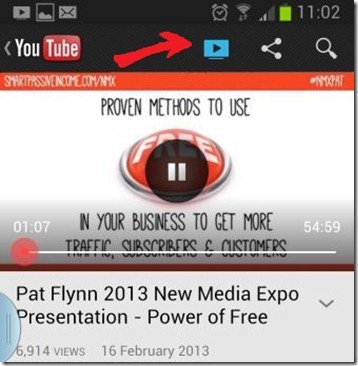 In the pic above from my galaxy note  2 , you can see the red arrow pointing to  the button, which  you can  use to  control the play , pause  and  stop buttons for the video  you are playing on your  smartphone and also displaying on  your TV.
How to connect  Samsung galaxy to watch youtube on my TV
Here are some instructions from Google on how to set this up ( My tv is  a 2011 Model Samsung tv)
2011 TV model pairing
Learn how to pair your mobile device to your 2011 TV model/Bluray Player so you can watch YouTube videos on your TV:
From your YouTube TV (On  your smart tv / media box /ps 3 / Xbox  etc):
Open the YouTube app.
Navigate to MY YOUTUBE, then move to the right and select Pair.
From your mobile device( Samsung galaxy note 2, Galaxy 3 , Ipad , Iphone) :
Open www.youtube.com/pair in your device's browser.
Enter in the pairing code shown on the TV.
Enter a name for this screen in the second field.
Touch Add Screen.
To learn more about how you can control your TV with your Android device, touch here!
You should be able to connect using the above method with many android phones , including  Samsung galaxy range of phones.
Other useful goggle links to connect  your device
-> Control YouTube TV from your mobile device
What devices ( smartphones) support YouTube on TV and pairing?
Unfortunately  pairing from your desktop is not supported  and so it does not support  Windows Phone 7  and  Windows Tablets , however it does support  Windows 8 Phone  and apple (IOS) and android devices
YouTube on TV is supported on the following  (TV ) devices: 
Samsung SmartTV and Bluray players (2011, 2012 models)

LG Smart TV and Bluray players (2011, 2102 models)
Sony TV (non-Bravia model, 2012 models)
Panasonic Vierra TV (2012 models)
Virgin Media STB
Tivo Premiere
Telecom Italia STB
Western Digital TV Live Hub
Philips
Vizio
Xbox 360
Wii
Wii U
PS3
Boxee
Bang & Olufsen TV
LG U+ (Korean Operator)
Toshiba TVs and Bluray players (2011, 2012 models)
How ever my TV is not really a smart TV, but  my WD live Media player connected to the TV is  smart enough to do the job (making my TV a smart TV  off course 🙂
Good luck with  your pairing your mobile to TV  and if you found this article useful do have a peek at my blog here . Leave any comments below  if you run into any problems and i would be glad to help if i can
Other related links