Get the mood set with Philips Living colors lighting
If you are looking to give your lounge  or  entertaining area  a nice colour lighting which you can adjust  according to your mood  then you cant go past This Phillips lighting gadget.
Its a bit pricey but does the job in style
Philips Living Ambiance 7099960PU Iris Clear LivingColors Gen 3 Lamp
Price:
$219.98 & FREE Shipping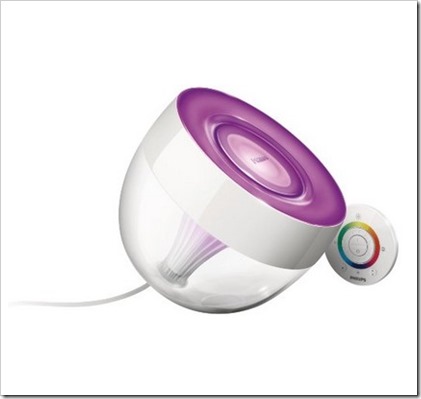 Philips LivingColors – Colour your world with light
Can you imagine creating bright sunshine yellow to warm your soul, or romance in shades of red? Perhaps a pale leaf green to ease you into the evening? Choose a colour and let the LivingColors family light up your world in any shade you want. From soothing pastel shades to rich, intense colours.
LivingColors Iris. A timeless and distinctive design to complement your home interior. Just take the remote control, select one of the 16 million colours and enjoy.
Control LivingColors Iris and other Philips LivingAmbiance products with one easy-to-use remote control (Smartlink)
Control livingcolors iris and other philips livingambiance products with one easy-to-use remote control (smartlink)
Choose from 16 million colours
Create and store 3 favourite scenes
Dim or change colour from intense to pastel colours
Automatic colour changing mode (including adjustment of speed)
Check out less pricey versions here from the philips range
If this is not what you are looking for  clickhere to check out more lighting products on amazon