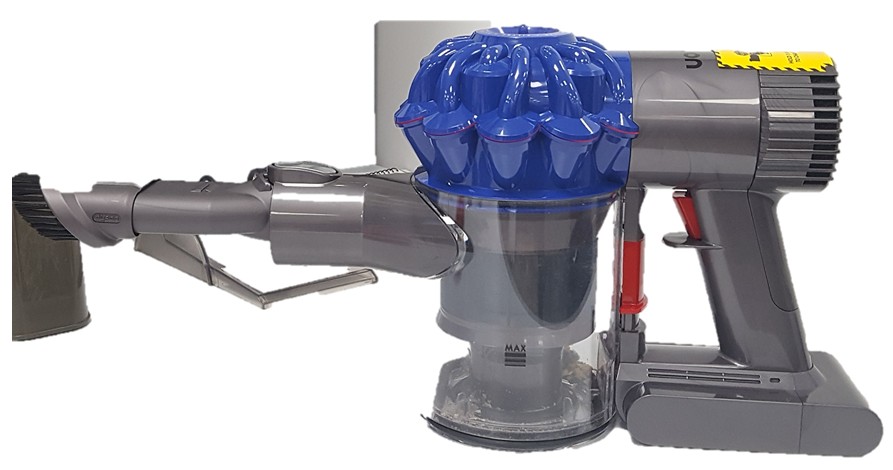 If you are looking for some good quality fans or coolers and heaters that are sleek then we got a good recommendation for you. Dyson is a well know quality brand that sells in Australia and overseas and has become well known for their quality and unique modern products. They have also started selling vacuum cleaners after their success with sleek and modern cooler+ heater fans without blades.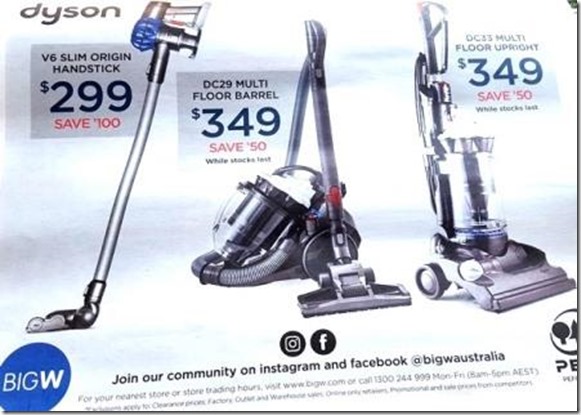 Today we are doing this post to showcase their products as they currently have a sale on. They are pretty popular in Australia and their prices are a bit steep to due tho their high quality and so a discount is always welcome.
Many may argue that their prices are still now very cheap after discount , but if you like what you see and got the $$ now is the time to buy it.
As you can see from the above pic  sale prices are as below
V6 Slim Origin Handstick is $299 and not

$399

DC29 Multi Floor Barrel is $349 and not

$399

DC33 MultiFloor Upright is $349 and not

$399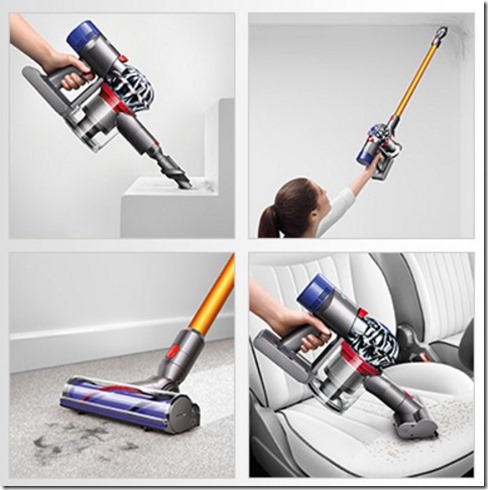 Check the bigw page over here
Cord-free vacuums – These vacuums are for  powerful cord-free cleaning around the home. No cord, no hassle. Light and balanced for floor to ceiling cleaning.

Transparent  Dust containers  –  Easy to empty and  Clean.  You can see the dust in the transparent  dust containers which are easy to empty. Just empty it and  the vacuum is again as powerful as new

Barrel vacuums  – its got them barrel vacuums  like Cyclones that capture more dirt and microscopic dust more than any other cyclones. Technology you won't find in other barrel vacuums.

Dyson V6 Slim Origin – Get USD PRICE
Dyson V6 Animal Vacuum Cleaner – Get USD price
The price is too high for most people even after sale.

Needs time  to charge , so cant use immediately if not charged compared to cord vacuums
New product :
Dyson Robot Vacuum
The 360 Eye robot vacuum has twice the suction of any robot vacuum and intelligently navigates around the room.
Watch video about the 360 Eye robot vacuum
| | |
| --- | --- |
| # |  Different models of Dyson vacuums |
There are the V8 and V6  slim hand held models  which are priced according to  the models . The V8 offcourse are the stronger models . These are  the models that i recommend  as they are powerful and light weight  and just charge on their stand ,sitting ready to use.
They are also good because you can use a shortened version of it  for your car or  upholstery
MODELS

Dyson V8 Absolute Cord-Free Stick Vacuum
Dyson Ball Animal 2 Upright Vacuum
Dyson specification table: power, weight, capacity and reach

See more specs and detail at the dyson forum here
| | |
| --- | --- |
| # |  The Dyson NO BLADE fan range |
The main attractive feature of the fans are no blades – they don't have blades and so are child friendly and safe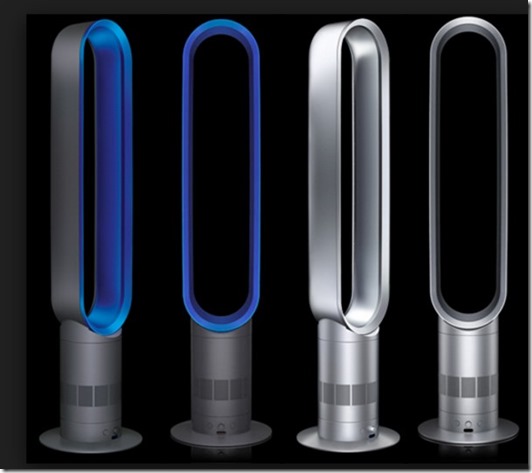 You can check out more products from dyson in their YouTube channel – https://www.youtube.com/channel/UCiEDKBFjGOT-zdxU9RApxDA  and find out  how dyson bladeless fans work here
Summary: The quality is good for these products and so if you have the cash for it, its worth the buy . But if you don't there are similar products now entering the market, quality will probably not match the price – but will be close and reasonable in compared to these prices. If you just want quality and durability surely go for dyson.