No I'm not !! This Mp3 player for your car can play mp3s right from a usb stick  and comes with a remote as well. If it all seems to easy , yes it is. i got this  Fm mp3 modulator device for $4.99 from eBay shipped all the way from Hong Kong  and it works a treat. In fact i was so pleased i chucked away  another Fm transmitter for mp3 players  that i bought from Woolworths  for $16 (  The song clarity i got from that device was crap).
This device plugs into your car lighter for power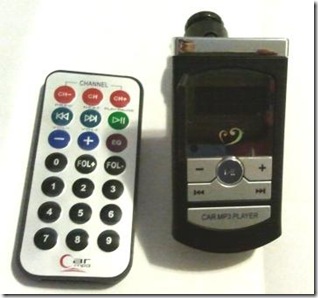 Its got controls on device as well as remote
Car Kit MP3 Modulator Player FM Transmitter SD/MMC/USB
Some of the features that i really appreciated that gave me bang for my measly buck was
Reads mp3s direct from usb stick( tooeasy)
Easy to set Fm frequency
You get a remote as well
You can switch between folders stored on the usb via remote( convenient to store different set of songs in different folders)
Remote has got volume control as well
Equalizer on remote ( preset equaliser sounds)
Good sound clarity
Plugs into your Car lighter for power
How this device Mp3 Fm modulator ( transmitter) works
If  you dont know how this works , what this device does is it reads the mp3 songs fom your usb stick or memory card and broadcasts the song via the fm frequency set on the device ( say 99.9 fm) , so you can tune  your car stereo fm to that frequency set (99.9FM) and hear the songs on your radio.
Takes memory card as well from the side, usb attaches from the bottom
Why this is so good , is because you can just delete  the songs you have on your usb stick and upload a new set of songs from your computer everytime you get bored of the songs on your usb stick. Happy driving ,  let us know if you get one of these  and  leave us some feedback
The call me the G-man.. Yeah thats rightthe G -man I am not a Guru, Jedi, Rock Star or a Ninja. I'm just a guy that knows an awful lot about a bunch of stuff and I'm not afraid to tell it like it is.
My stuff is really good. It's different. I think you'll like it. You should really check it out. You might actually learn something...if not, maybe you can teach me something.