3D TV is a generic term for a display technology that lets home viewers experience TV programs, movies, games, and other video content in a stereoscopic effect. It adds the illusion of a third dimension, depth, to current TV and HDTV display technology, which is typically limited to only height and width ("2D").
How can you get 3D from a 2D screen?
A 3D TV or theater screen showing 3D content displays two separate images of the same scene simultaneously, one intended for the viewer's right eye and one for the left eye. The two full-size images occupy the entire screen and appear intermixed with one another–objects in one image are often repeated or skewed slightly to the left (or right) of corresponding objects in the other–when viewed without the aid of special 3D glasses. When viewers don the glasses, they can perceive these two images as a single 3D image.
Broadcast Australia has  become the first to broadcast three-dimensional television signals terrestrially over the air. The trial 3D TV service was switched-on at Broadcast Australia's Gore Hill transmission site in Sydney recently.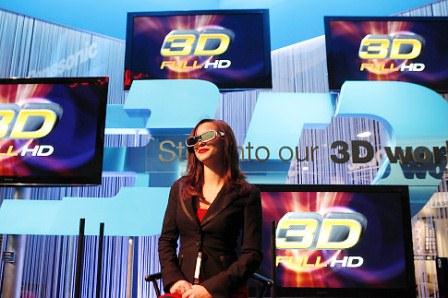 This landmark  australian 3D broadcast service launches a two-month trial undertaken by Nine Network Australiaand SBS Corporation. The service will be turned-on in stages in seven major Australian cities over the next few weeks. "Broadcast Australia is thrilled to be involved in this trial and to broadcast the first-ever 3D TV content via terrestrial means," said Broadcast Australia's Managing Director Graeme Barclay
Broadcast Australia, working with TX Australia, will deliver to Australian fans up to 15 matches from the 2010 FIFA World Cup in South Africa, plus three rugby league matches from the 2010 State of Origin Series between NSW and Queensland, live in 3D.
. "We applaud the ACMA's decision to grant the temporary license to Nine and SBS jointly, allowing Australia to help demonstrate the future possibilities for new broadcast technology platforms. It is this sort of innovation that highlights the need to reserve new broadcast spectrum for new broadcast services in the Government's forthcoming spectrum plan."
The first live 3D TV broadcast takes place on 26 May, when the first State of Origin match is scheduled to be played in Sydney. This will be followed by two more State of Origin matches and up to 15 World Cup soccer matches until the trial ends in mid July. In the meantime, demonstration 3D content will be broadcast from Broadcast Australia's Gore Hill site.
Broadcast Australia has modified several of its broadcast transmission systems to support the 3D TV signal, which is encoded using the latest MPEG-4 compression standard and utilises a side-by-side 'frame compatible' 3D transmission technique. These systems have been integrated into Broadcast Australia's Network Operations Centre in Sydney, for 24-hour monitoring and control of the 3D signal.
The spectrum used for the trial is one of the 'unassigned' UHF channels in each city—in Sydney, it is the same channel vacated on 30 April 2010 by Broadcast Australia's 'niche TV' trial service.
[3D TV Models & Brands] [ What is 3DTV] [3dTV Australia] [Comparison 3DtV HDTV LED TV] [3DTV is harmful] [3D TV Brands Online] [3D TV Glasses Price Quality] [3d TV Articles]