Just a few years ago, most of us would have been laughing at the idea of buying a 3D-ready TV for our homes. That idea has now become a reality. Samsung 3D TV brands range is leading the 3D TV charge launching a range of Samsung 3D televisions that will convert 2D to 3D images in real time. Toshiba and Mitsubishi 3D TVs are released, and the other major manufacturers such as Panasonic also have released 3D TV sets.
Major TV networks such as ESPN plan to launch the first official 3D sports channel in June this year.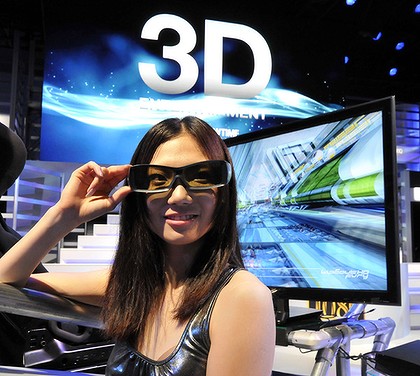 3D TV is perfect for money-making.companies like Sony or Samsung , one of the big guns in the 3D world, is to start making 3D-Ready badges for its upcoming range of TVs. Each TV with one of these badges will cost significantly more that a non-3D version being released.
3D TV Brands
1. Samsung 9000-Series and & 7 Series in Australia ( Samsung 3D led TV)  & Samsung 3D Plasma TV ( 7 Series)
Samsung TV Brand Range:
Samsung 55″ Series 7 3D FULL HD LED TV 200Hz – UA55C7000
Samsung UA40C7000 Series 6 40″ 3D LED TV
Samsung UA55C7000 55″ 3D Full HD LED TV
Samsung UA46C7000 46″ 3D LED TV – Series 7
Samsung Ua46c7000 46″ Full Hd 3d Led Tv 1080p
What Options Should I Look For When Choosing A 3D TV?
3D TVs are available in Plasma, LCD and LED LCD display types, ranging in sizes from 40-inch (101cm) through to 63-inch (159cm).
All new 3D TVs offer full High Definition 1080p and a minimum of 100Hz refresh rate.
The better the refresh rate, the better the 3D experience.
For viewing fast-moving action, like sport or movies, on LCD or LED LCD, look at 200Hz.
For viewing fast-moving action, like sport or movies, on plasma, look at 200Hz. 600Hz options.
[3D TV Models & Brands] [ What is 3DTV] [3dTV Australia] [Comparison 3DtV HDTV LED TV] [3DTV is harmful] [3D TV Brands Online] [3D TV Glasses Price Quality] [3d TV Articles]