The ECS R100 Wi-Bridge turns an ordinary TV into a smart TV by simply connecting the R100 Wi-Bridge to your TV or projector via HDMI or VGA.
Like a smartphone, a smart TV offers a number of "internet connected services" that normal televisions can't offer, its like having a computer built into it.These televisions offer apps, media streaming, web browsing, games and, perhaps most importantly, Internet Protocol Television (IPTV).  This gadget below  when attached to your tv will make your tv smarter or a smart TV
Make your TV smart with ECS R100 Wi-Bridge
ECS' newly released Wi-bridge retrofits old TV sets and promises to bring smart-TV like functionality to older TVs.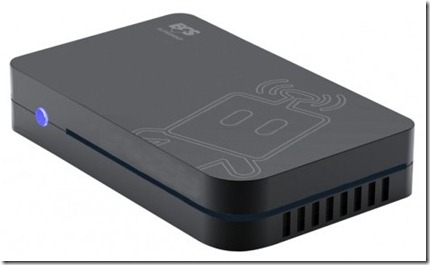 Smart Tvs Vs Old Tvs
According to wikipedia

Smart TV, which is also sometimes referred to as "Connected TV" or "Hybrid TV", (not to be confused with IPTV, Internet TV, or with Web TV), is the phrase used to describe the current trend of integration of the internet and Web 2.0 features into modern television sets and set-top boxes, as well as the technological convergence between computers and these television sets / set-top boxes. Similar to how the internet, web widgets, and software applications are integrated in modern smartphones, hence also the name ("Smart TV" akin to "Smart Phone")
All of the stuff stored on your pc or laptop like  Full HD movies, games, and music or even on  your  smart phone or tablet can then be wirelessly sent to your home theatre system, giving you ultimate convenience and comfort of sharing and watching it on your TV.
Wi-Bridge R100 (V1.0)
Smart Tv – ECS R100′s dual-band, high-bandwidth wireless link helps you watch smooth theatre-quality Blu-ray 1080p HD movies without glitches.
No word on pricing or availability has been set for this smart TV product yet.
Australian store  "Altech computers" is listed as distributor for Australia for this product
Related links: