what a ripper of a deal for a wireless keyboard mouse package  !
You don't expect o get good cheap stuff at Woolworths, specially when its gadgets !! Here is a photo of the one i got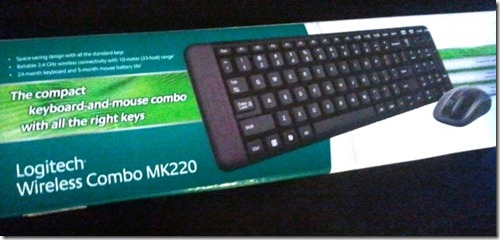 I just picked up  this keyboard and mouse wireless package for just $24.99 at a special offer reduced $5 ( original price $ 29.99), seriously where can you get a wireless keyboard and mouse for just $24.99 let aloe the original price of $29.99
And Guess what the MK 220 Wireless keyboard and mouse brand is Logitech
Logitech is quality , i know i have used their products.
If you visiting woolworths just grab this and keep it as a spare when you want   to cahnge you current one or  a problem springs up
The call me the G-man.. Yeah thats rightthe G -man I am not a Guru, Jedi, Rock Star or a Ninja. I'm just a guy that knows an awful lot about a bunch of stuff and I'm not afraid to tell it like it is.
My stuff is really good. It's different. I think you'll like it. You should really check it out. You might actually learn something...if not, maybe you can teach me something.