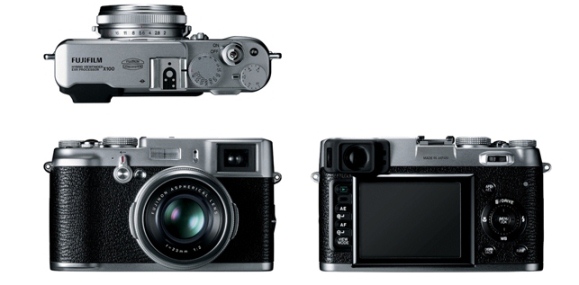 Review: Fuji FinePix X100   – Camera reviews from our blog
The Fuji FinePix X100 Digital camera packs a lot of punch for a high-end compact digital when considering overall image quality and precision. Its speed and accuracy is quite impressing, especially when shooting in the street. It easily ranks as one of the most beautiful and aesthetically pleasing cameras currently  on the market. Even the arty photography enthusiasts and anyone who appreciates good design will grab this camera.
This camera apart from its retro look also has a gorgeous, old-fashioned, and highly recommended protective leather case that you can buy that looks and fits just like the 35mm cameras from yesteryear, though it doesn't come standard. A fun feature , the X100 's fun panoramic feature, which captures images in 360 degrees and automatically stitches them together in a seamless photograph instantaneously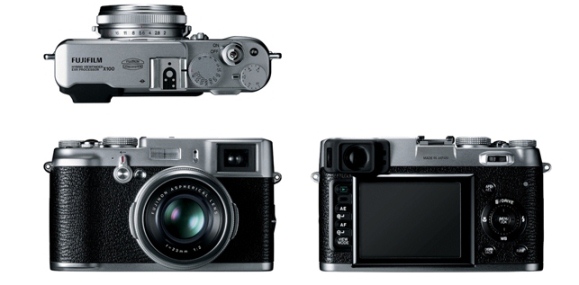 Fine pix x 100 , APS-C size CMOS 12.3-megapixel sensor & EXR processor shines
The custom designed APS-C size CMOS 12.3-megapixel sensor designed to work perfectly with its fixed-focal length 23mm F2 lens (equivalent to 35mm lens on a 35mm film camera gives the  Fuji X100's its high quality image-making ability. Fuji has hyped this camera to the extreme and hails its image sensor as ten times the [light] sensitivity of a typical compact. A special stand out is the camera  obtaining great detail in low-light situations is easy with the X100. Once skeptical about the camera's prime lens this was proved wrong when we put it to the test.. The X100  fuji finepixoutperformed even our high expectations in terms of its detail, color accuracy and tonality, velvety skin tones, low noise, and ability to freeze action. The shots obtained by the camera  speaks miles about the quality and speed of the lens and Fuji's newly developed EXR processor. To better compose shots, we were perfectly happy adjusting and cropping later and still yielded amazing results.
If you're one of those enthusiasts  switching to Fuji from being a longtime canon
or Nikon
  user, expect a bit of a learning curve, as with all cameras. It does take some time to get familiar with Fuji's unique button arrangement, viewfinder, and menu toggling functions.
Thje fuji finepix is designed to appear like a classic 35mm camera similar in style and layout to the much older leicas
, the Fuji FinePix X100 is very much a state of the art digital. While you can set the shutter and aperture without ever powering up, if you fail to read the manual you may not notice that you cannot shoot any close-ups anything closer than two feet from the lens without making an electronic menu switch to macro (and it takes a while to determine how to do so). Gone are the (agreeably ridiculous) image icons, though it takes a moment to customize your desired settings.
Fuji Manual download – Link for Fuji finepix X100 manual download
Fuji FinePix X100  Vs  X10
Another unique feature is the  the X100 's unique Reverse Galilean viewfinder, named for the Renaissance astronomer Galileo Galilei since it's assembled like a telescope. Distinctive from other DSLRs, the Fuji FinePix X100 is a performance giant in a compact, slim and lightweight design. Just Like other high-end cameras it enables photographers the ability to shoot and save files in RAW or JPEG formats, choose from a variety of  filters that mimic the look of film (PROVIA, Standard, Velvia, Vivid, ASTIA, Soft), as well as shoot video at 24 frames per second (a maximum of ten minutes at a clip) with stereo sound recording.
One criticisms  is the X100 's manual focusing feature that seems impossible to properly gauge with any exactness, its an area where Fuji needs to return to the table when designing future models.
To complete the review i can say the Fuji X100 is a champion, if taking the finest images is your number one priority, Fuji's FinePix X10 also comes close to this , which not only has an adequate zoom (112mm telephoto) but also shoots in 28mm wide angle and has essentially the same number of megapixels.
Price comparison
Fuji Finepix X100 Filter / Lens Metal Adapter Tube And Lens Hood 49mm for $15.99
Photographer's Guide to the Fujifilm FinePix X100  by Alexander S. White $24.95   
Category: Review: Fuji FinePix X100 , Review: Canon EOS 5D Mark II, Review: Canon PowerShot S100, Review: Fuji X10, 4: Canon PowerShot SX40 HS, Nikon D5100 Review, Review: EOS Canon Rebel T2i 550D, Review: Nikon D3100, Canon Rebel T3 1100D Review, Review: Canon 7D
Tags : Review canon 7d Canon EOS 5D Mark II Canon EOS Rebel T3i 600D Canon PowerShot S95 Canon Powershot S100 Canon Rebel T3 1100D EOS Canon Rebel T2i 550D Fuji nikon d90 nikon d5100 Back to top