Sony has just announced their entry into the ultra book market. Sony has announced the company's first ultrabooks, dubbed as VAIO T series, these will go on sale globally this month.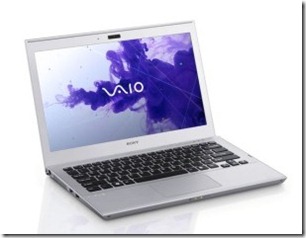 Launch of Sony ultrabook – Sony Vaio T series
Media reports say the  "Sony, VAIO T series" will come in two sizes – 11" and 13.3" and is powered by Intel's ultra-low voltage i3 Sandy Bridge processors
Key Specifications for VAIO T series
Intel Core-i3 2367M processor
Windows 7 Home Premium 64bit with SP1
4GB DDR3 RAM
320GB HDD (SSD options available)
Intel HD Graphics 3000
The Sony VAIO T series ( T 13 , T 11 ) comes with an energy-efficient deep sleep, which keeps your data safe for upto 90 days without running out of power and also features include a 17.8mm thick brushed aluminum body and upto 9 hours of battery life.