Grand Theft Auto V- by Rockgamer
,31/08/2013Video trailer and game release from Rockstar games maker of popular games like max payne . midnight club and L A Noire video games has just released the Fifth version of GTA ..

Rockstar games  maker of popular games like max payne . midnight club and L A Noire  video games has just released the Fifth version of  their most popular game and trailer video of "Grand Theft Auto V"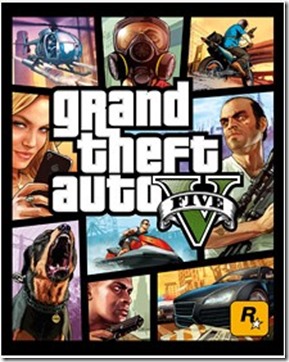 According to their website , Grand  theft auto  V is based in Los Santos: a sprawling sun-soaked metropolis full of self-help gurus, starlets and fading celebrities, once the envy of the Western world, now struggling to stay afloat in an era of economic uncertainty and cheap reality TV. This series takes a bit of the Hollywood sleaze and throws in some action  into it
This version of the story  revolves around three main characters – retired criminal Michael, crazed career criminal Trevor Phillips and repo man Franklin – and how they came to be working together. [ Trailer video Below ]
Video | GTA Grand Theft Auto V  official Trailer 2013
Game rating for the game  grand theft auto five
You can get the  Grand theft auto V special edition  over here  for $79.99 (Pre-order GTA V and Get Access to Fly the Atomic Blimp ) and you can get the Grand Theft Auto V Limited Edition Strategy Guide here  for $22.99
The Atomic Blimp offer will be packed into launch orders. Offer valid when shipped and sold by Amazon.com. Amazon reserves the right to change or terminate these promotions at any time. These offers will be extended to all existing pre-orders.

This game is available for playstation 3 and xbox 360
As usual the rating says   strong violence , nudity and blood and gore which you can expect from this game  event though it said to be a 17 +  kids game
ESRB Rating: MATURE with Intense Violence, Blood and Gore, Nudity, Mature Humor, Strong Language, Strong Sexual Content, Use of Drugs and Alcohol
Screen shots from video trailer and game 
Ref ( http://www.rockstargames.com)
Grand Theft auto V is developed by series creators Rockstar North, Grand Theft Auto V will be available worldwide on September 17th for Xbox 360® and PlayStation®3.
Oh yes, and if you visiting the official grand theft auto v  website , remember  the  Americans  normally put their DOB details ,  as month , day  and year rather than the other way around ,  to gain entry into site  ( age verification)
Grand Theft Auto V is coming September 17, 2013. Pre-order now and visit www.rockstargames.com/V for more details.