Canon announced another new camera today ( mirrorless camera )and again I'm seeing hands on previews and first impression reviews on other photography sites. There's been a lot of all the leaks and rumors about the camera.
Canon – Mirrorless camera "The EOS M"
There has been official product photos of Canon's soon-to-arrive mirrorless camera "The EOS M"  that has been leaked late last week, and now the camera's specs are following suit.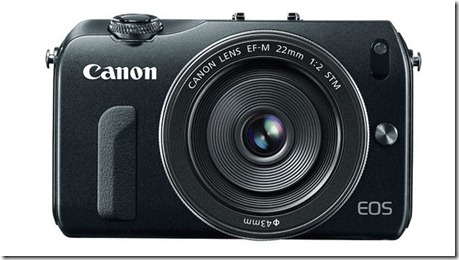 Canon Rumors reports that this new release canon camera will have these features
Rumored Specs of the mirror less camera
18MP APS-C sensor
ISO range of 100-12800 (expandable to 25,600)
3-inch touchscreen
Phase and contrast autofocus, autofocus during video recording
1080p HD video, Enhancement features (twilight mode, creative filters, HDR, multi-shot noise reduction).
The 5D owes a lot of its popularity to the video market. Plus the flip-out screen makes sense for taking pictures at hard to get angles. Having the screen be slightly smaller by a freaking 0.2″ is not a big deal.
New Release – NEX , Samsung Fuji ,Pentax Mirrorless, Ricoh's GXR Nikon 800 and Panasonic G3
Sony has been doing this for several years now with the NEX. Samsung also has a system out. Fuji has one. Pentax has one. Ricoh's GXR is similar. And Leica released the M8 back in 2006. Canon is anything but first in the mirrorless game.
This Canon release will get  Nikon a bit worried . The Nikon 800  and Panasonic G3 will surely need to be as good with a upgrade to dominate this market and leave the canon behind. Camera companies like Nikon, Sony, Pentax, Leica, Fujifilm have all got cameras waiting to be released soon in this increasingly competitive market.

Prices are rumoured to be "$799.99 with 22mm lens, $849 with 18-55mm lens, $1049 with 18-55mm + 22mm lenses, $979 with 22mm lens + EF adapter"
I do research on gadgets and shopping online, don't necessarily buy them