We received a Norton Multi Device 360 suite and we decided to put it to the test , here is what we found . The 2013 edition of Norton 360 Multi Device  includes all the powerful protection found in Norton Internet Security, just packaged differently. It also offers full-scale online and local backup plus a full set of system tuneup tools.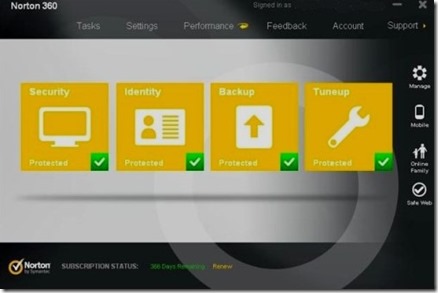 Symantec, the company responsible for all Norton products, has made leaps and bounds with their internet security suites over the years. Norton 360's settings page offers a set of quick controls to turn components on or off, along with nine links to additional pages of detailed setting and is quite different from the "Norton Internet security"  and "Norton Internet Antivirus"  in its design. The new 360  interface is easy to use on Windows 8, as that's what it's been designed for. It's also effective on a Windows 7 computer
Security is essential  and so is knowing how websites fare  and so the new Scam Insight takes browsing data from Norton's Insight network of anonymous user-contributed data to warn the Norton community when a Web site is potentially risky. Sites that are new or do not have an established reputation will be flagged, however this feature can be overridden
Security is also beefed up with Norton Intrusion Prevention System and the Norton Safe Web for Facebook app keep an eye out for threats such as linkjacking and posts with links to malicious sites. With  the customary quick scan, full system scan, and custom scan for viruses and malware, you can now have Norton scan your Facebook wall for malicious links as well
Norton 360 Features at a glance
Network threat protection

Vulnerability protection

Antiphishing technology

Browser protection

SONAR behavioral protection

Norton Safe Web for Facebook

Bandwidth management

Norton Pulse updates

Email and instant message monitoring

Smart two-way firewall
Norton 360 on Android
Core components on android provided are Anti-theft , Malware detection, Web Protection and Online Backup with some other features below Added with the app version
Trigger a "scream" alarm to quickly find your missing device
Lock or wipe your stolen device remotely to prevent data theft
Send a customized message to anyone who finds your missing device
Block unwanted calls and SMS text messages
Norton for Android does not take up valuable processor clocks to add to any overheads which is highly appreciated for a critical application
Norton 360 on iOS
The single Norton 360 key gave me access to all the essential services on this platform as well ipad ,iphone etc and the Standalone applications like QR code security, Anti-theft, mobile utilities and Halt Exploit (an Exynos processor specific patch) defender are available as separate downloads incase one needs to have a specific functionality.
With a renewable 360  subscription, up to three PCs in your household are continuously protected and you can also protect your smartphones and  apple devices if needed, safeguarding your family when they shop , download files  and  providing automatic and transparent protection from viruses, spyware, fraudulent Web sites, phishing scams, intrusions, and the latest online threats
If you are looking for a deal to  secure multiple devices including smartphones or ipad , you cant go past a Norton 360 Multidevice , which is proven antivirus software on  the market. This software remains Gadget Australia's ' Choice for "mega-suite." in Internet security  software after we put it to the test