There's a new  phone sleeve that's real cool, the new Iridescent range of Smartphone  Skins hitting the market are catching on fast. They are made up of premium grade cast vinyl with a unique weaved adhesive and UV resistant ink and available in  Gloss or matte laminate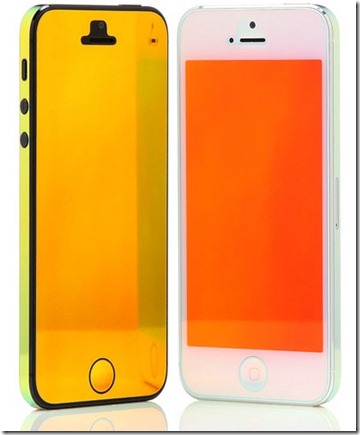 Now you can make you new Iphone even more catching to the eye  and maze you friends  with a  cool Iridescent color changing Skin for your iphone , soon arriving for Samsung galaxy and note.
Not not this glowing skin below,  but we talking gadgets, the iridisent skin changes color at every angle unlike the women below

Iridescence (also known as goniochromism) is generally known as the property of certain surfaces that appear to change color as the angle of view or the angle of illumination changes. There are numerous common examples of iridescence; for example, soap bubbles, butterfly wings, and sea shells.
From Wikipedia, the free encyclopedia
All you need to do is tilt your mobile phone  to change the colour of the skin and your phone. You tilt it a bit further and you can change the colour to another color.
One of the providers  is Aurora , check out Clear-Coat's new color-changing Aurora skin, it costs  $35  for the self-adhesive decal which is applied to your iPhone the same way as a normal screen protector (PIC ABOVE)
Check out a Iridescent Butterfly iPhone 3GS Skin below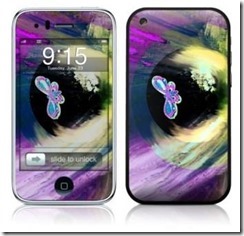 available at istyles, interestingly  you can also get a Iridescent Butterfly Laptop Skin at te website
There's a android version at Amazon  with a Metallic Hard Case Cover with Iridescent Effect ($7.89) for Samsung Galaxy S3 III i9300 Android Smartphone and also a iphone version  Iridescent Red/Black Chrome Incipio brand available for ($25.82)