Apple has once again surprised the market  with its new products the super slim IMac, its now re-invented the wheel completely  but has moved with times  and brought out a nice looking slim desktop alternative  which will surely please many apple fans and also bring in new apple converts.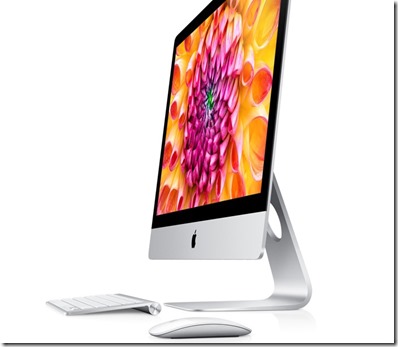 Features of the new Imac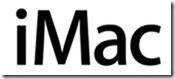 Its got a widescreen display that is 75% less reflective
It comes with the new OS x Mountain lion software
Comes in 21.5- and 27-inch displays
1TB hard drive comes standard( option to upgrade to 3 TB)
Quad-core Intel Core i5 processor Comes standard
The new iMac now adopts the Ivy Bridge Intel Quad Core Processors and the fastest DDR3 1600Mhz RAM.
Connections ports on new slim Imac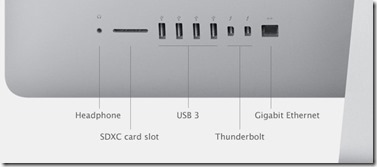 Overview of key features and specifications.
2.7Ghz Intel Core i5 Quad Core Processor
21.5″ LED IPS Backlit Glossy Display
1000Gb 5400rpm Hard Drive.
2 x Thunderbolt 10Gb/s Connectivity, 4 USB 3
Digital and Analogue Audio In/Out, Facetime HD Camera
nVidia Ge-Force GT 640M with 512Mb
8Gb DDR3 1600Mhz
*Wireless Keyboard, Mouse, Trackpad and Numeric Pad options
Gigabit Networkiing, Airport Extreme 802.11n, Bluetooth, XDHC Slot
OS10.8 Mountain Lion Preinstalled, iLife '11 Preinstalled
LaCie USB3 or Thunderbolt Backup Solutions – NEW
12 Month Apple Warranty extendable to 3 year with AppleCare
Zerothree Platinum Apple 24/7 Direct Lifetime Tech Support
Models available
XMD096X/A1 iMac 27″ 3.4Ghz i7 3Tb Fus, 2Gb GFX
XMD094X/A iMac 21.5 3.1Ghz i7 16Gb, 1Tb Fusion
MD093X/A Apple iMac 21.5 2.7Ghz i5 Quad Core
MD094X/A Apple iMac 21.5 2.9Ghz i5 Quad Core
MD095X/A Apple iMac 27.5 2.9Ghz i5 Quad
MD096X/A Apple iMac 27.5 3.2Ghz i5 Quad