Well the CES 2011 show has just come out with some surprisingly amazing gadgets and gizmos , here are some gadgets that created a buzz at the show
Net gear launches N3200 – WNXR2000 wireless networking with powerline networking
Netgear is to merge wireless and wired power line networking, pitching at the Consumer Electronics Show (CES) a "hybrid" 802.11n Wi-Fi router with an AC adaptor that doubles up as a Home Plug AV adaptor. It also launched what it claims is the first ever 500Mb/s power line adaptor. Net gear  will be competing with  Belkin who already  offers a gigabit power line adaptor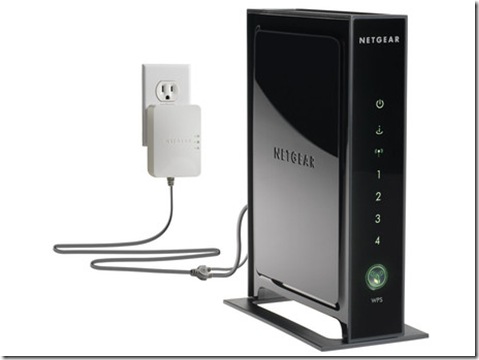 They have launched the hybrid box, the N3200 – model number WNXR2000 – which allows you to extend your network's reach out into wireless cold spots by using the mains wiring. It has basic 200Mb/s Home Plug AV support integrated into its mains adaptor – just plug in a separate HomePlug AV adaptor to create the link. You could use Netgear's new Internet Adaptor For Home Theatre adaptor – aka the XAVB5004 – a four-port unit that also supports 200Mb/s Homeplug AV
Samsung Tablet or notebook – best of both worlds
cant decide if you want a small notebook or a tablet? Samsung's latest lets you have them both. Samsungs TX100, unveiled at the Consumer Electronics Shows (CES) today is a 10.1in, 1366 x 768 LCD tablet with a built in physical keyboard too. The 80-key deck slides down and forward, turning touch screen tablet into a laptop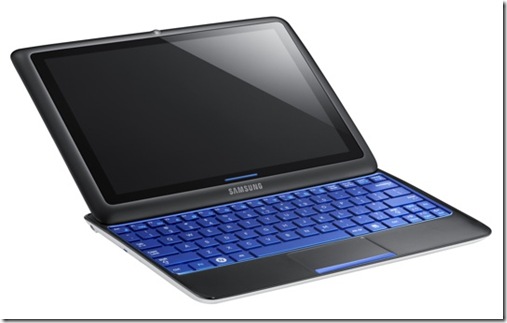 Samsung notebook + tablet is based on an Intel Atom chip and runs Windows 7 Pro rather than the ARM' n' Android combo favored by Samsung's Galaxy Tab tablet and has Wi-Fi and a Micro SD memory card slot, plus a proprietary port into which you can hook a selection of USB and HDMI adaptors.
Microsoft  Touch Mouse
it's a mouse that drops the scroll wheel for a muti-touch surface, allowing you to flip through pages with a swipe of your finger.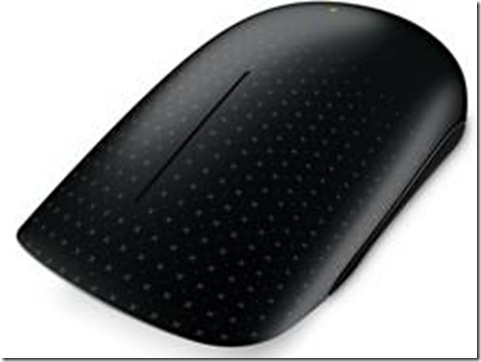 "One finger lets people manage individual documents or pages by flicking to quickly scroll, pan and tilt, and one thumb lets people move back or forward through a Web browser. Two fingers manage windows, letting people maximize, minimize, snap and restore them. Three fingers let people navigate their whole desktop, showing instant viewer or clearing their desktop."
This wireless gadget comes with an ultra-compact USB adaptor and, MS claimed, it can track on "virtually any surface" – not glass or mirrors, though
Samsung PMP – Android powered MP3 player
Samsung has announced the launch of its latest PMP – apparently the world's first Android powered MP3 player, according to the company, which appears to have missed Archos' Google OS offerings.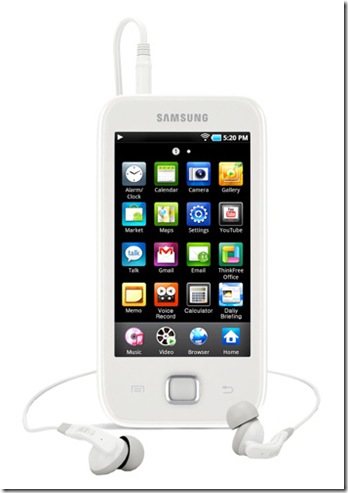 The Samsung Galaxy Player 50 has a 3.2in touch screen, 2Mp camera and comes with either 8GB or 16GB of storage, expandable using Micro SD cards of up to 32GB, with in-built Wi-Fi. The Galaxy Player  due to wifi can connect to Android Marketplace to access over 100,000 apps and games. Its browser is Flash compatible, and the Galaxy 50 boasts broad format support with drag and drop capabilities, Samsung said
Visit the official CES 2002 Website <– here
The call me the G-man.. Yeah thats rightthe G -man I am not a Guru, Jedi, Rock Star or a Ninja. I'm just a guy that knows an awful lot about a bunch of stuff and I'm not afraid to tell it like it is.
My stuff is really good. It's different. I think you'll like it. You should really check it out. You might actually learn something...if not, maybe you can teach me something.