Microsoft has finally entered the Tablet wars and unveiled its first tablet computer, the Surface, as the technology titan steps in with its own hardware to take on Apple's market-ruling iPads.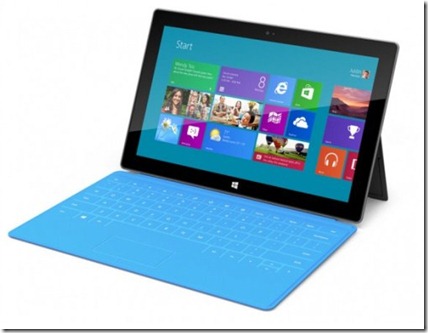 In what was supposed  to be a very important presentation to break into the lucrative tablet market Steven Sinofsky, president of Windows and Windows Live Division, stumbled and  fumbled though the presentation for the Microsoft tablet surface when the tablet refused to function suddenly in between the presentation. Steven panicked  and apologised and ran to get another replacement that worked.
Perhaps the Trainings execs  at Microsoft could possibly give a few pointers next time  to Steven how to handle a situation like this more gracefully or avoid any erors in a important presentation.
Specs for windows Surface tablet (powered by Windows RT software )
Surface running on Windows RT software tailored for ARM chips

9.3 millimetres thick and weighed 676 grams

26.9 centimetre high-definition screen

Available with 32 or 64 gigabytes of memory
Specs for  2nd version powered by ( Windows 8 Pro software )
13.5 millimetres thick

Weighs 903 grams

Available with 64 or 128 gigabytes of memory
The name surface might sound familiar because Surface is also the name of table and poster-sized touch screen computers that Microsoft has pitched to the business market for use in restaurants, shops, bars and other venues.