Making its global debut at this week's Communic Asia trade fair in Singapore, Chinese technology firm Huawei's  MediaPad sports Qualcomm's dual-core 1.2GHz processor. The market is already awash with models such as Samsung's Galaxy Tab, the HTC FlyerTM by Taiwan's leading smartphone maker HTC and the ZTE Light tablet by Chinese manufacturer ZTE in addition to Western brands such as the BlackBerry Playbook by Canada's Research in Motion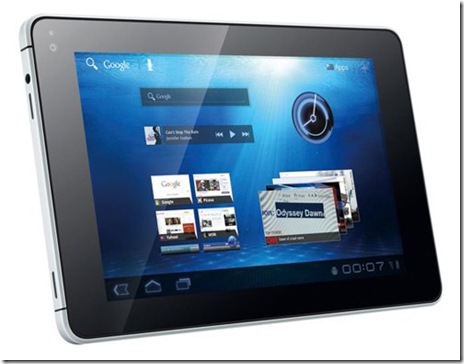 By one estimate, Asia will account for about a third of tablet sales by 2015, triggering a race for market share by big and unknown brands alike.
Huawei Mediapad  launched at Communic Asia trade fair in Singapore

The new Huawei Mediapad  is just 10.55 mm (0.4 inches) thick and weighs 390 grams (0.86 pounds), making it much lighter than an iPad2
Tablet and Ipad wars pick up in Asia
Industry research firm "Gartner has said" the iPad accounted for a hefty major share 84 percent of the total 17.6 million tablets sold worldwide in 2010, with that share tipped to decline to 69 percent of 70 million to be sold this year.
At the current rate of new tablets and gadgets and I pads being released ,the market is over-saturated, there's way too many vendors trying to participate in this market than there is demand for, You can check out a You tube video of the Huawei Mediapad over here.
Specs for Huawei Mediapad
Measuring just 10.5mm (0.4 inches) deep and weighing approximately 390g (0.86 pounds) and 7inch.
Supports 1080P full HD video playback  with1.2GHz Dual-Core processor and HDMI port.
Features a 1.3 megapixel front facing camera and 5 megapixel auto focus rear facing camera with HD video recording capabilities.
HSPA+ 14.4Mbps  HSPA+ data services, Flash 10.3 videos
High-speed WiFi 802.11n Internet connectivity
Android Honeycomb 3.2
An Arab friendly version of the "Arab MediaPad" will be available in the Middle East by mid-November 2011
The call me the G-man.. Yeah thats rightthe G -man I am not a Guru, Jedi, Rock Star or a Ninja. I'm just a guy that knows an awful lot about a bunch of stuff and I'm not afraid to tell it like it is.
My stuff is really good. It's different. I think you'll like it. You should really check it out. You might actually learn something...if not, maybe you can teach me something.