When Plain ole beach chairs become really dangerous – Ikea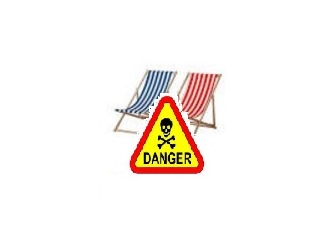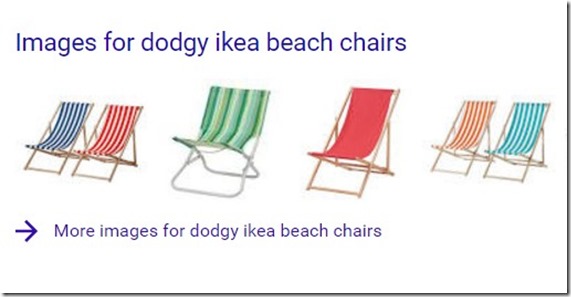 That is the result I get when I search  for "dodgy ikea  beach chairs" in google search
Ikea is getting a lot of bad press for its Mysingso beach chair range. This was due to the chair collapsing and fingers getting stuck complaints by customers. The mere thought of my finger getting stuck makes me cringe with pain and if it's a manufacturers fault then they need to take it off the shelves.
Here is an announcement by Ikea Canada – I suppose Australian announcement should follow soon, if it's available in our stores
IKEA Canada urges customers who have bought a MYSINGSÖ beach chair beforeFebruary 2017 to bring it back to any IKEA store for a full refund.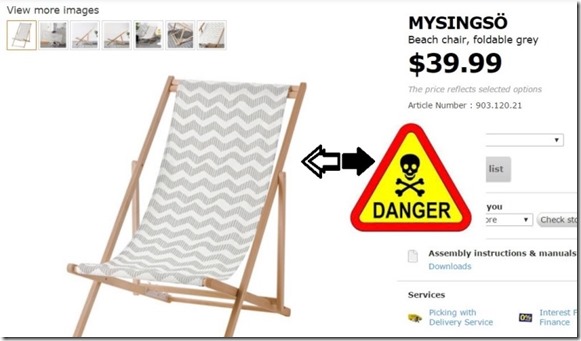 Why the Ikea recall ?
After washing the seat which is made of fabric, you can re-assemble the chair and if this is done incorrectly, it could lead to falls or finger entrapments or your fingers getting squashed.
According to yahoo news report, IKEA has received five incident reports in which MYSINGSÖ beach chair collapsed during use due to incorrect re-assembly. There have been no reports of injuries in Canada.
Ikea says that the MYSINGSÖ beach chair has gone through relevant mechanical, fabric and chemical tests with approved results.
The website consumerist reported The company said in a statement that it'd received five reports from the U.S., Finland, Germany, Denmark, and Australia where users were injured after the chair collapsed as a result of incorrect re-assembly
Customers should return their MYSINGSÖ beach chair at the Returns & Exchange department at their local IKEA store or call IKEA Customer Service toll-free, 1-800-661-9807 for a full refund. Proof of purchase (receipt) is not required by IKEA for this recall.
Obviously this is to do with the US and CANADA stores at the moment , so please check with your local Australian ikea store before buying or then just stay away from it for the moment
A full investigation was initiated. Which has led to an improved design to further mitigate the incidents of incorrect re-assembly and injuries. The updated chair is planned to be available in IKEA stores from February 2017.